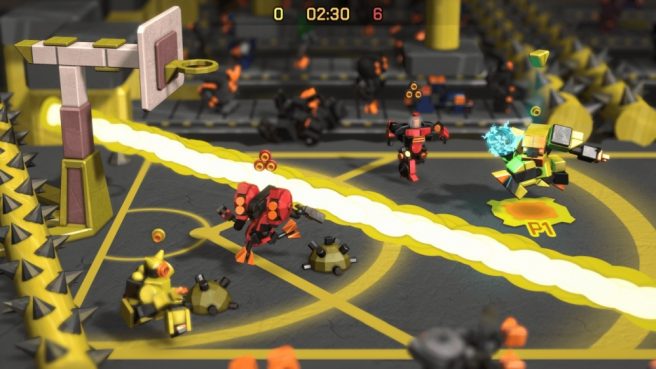 RoboDunk ended up on Switch this week, and we have new gameplay from the basketball roguelike. Fans can check out 22 minutes of footage.
Here's an official overview with more information:
Crush enemy teams in this high energy, sports-roguelite experience. Take down adversaries with robo-charged tackles and high-powered weapons like lasers and shock rings. Outwit opponents by turning spiked rollers, jump pads and other court hazards to your team's advantage with up to three other friends in local multiplayer versus, 2-player coop, or solo play.

Wanna turn up the heat? Take on the roguelite campaign and choose your own path among challenging matches with exotic rewards, ever-changing rules, clever traps, and of course, new rosters of skilled robopponents. And there's more than just dribbling in these cutthroat arenas: following each victory you will gather morsels of lore about the Gods, to discover if DUNK is the meaning of life.

Balling on opposing teams will grant robodunkers permanent stat boosts, new skills, and upgrades like ammo multipliers and double jumps to dish out new brands of carnage. Redeem victory rewards to power up and allocate points in a massive skill tree, allowing players to create the perfect robotic squad.

Try your luck in endless mode where everything is randomized, even your team. Can you survive longer than past champions and get the high score?

Share victories and losses with a teammate with drop-in/drop-out co-op, available for every game mode.
Continue on below for a look at the RoboDunk gameplay on Switch.
Gameplay
RoboDunk is live on the Switch eShop. It supports English, Japanese, Portuguese, Spanish, French, German, Italian, Russian, Chinese (Simplified), and Chinese (Traditional).
Leave a Reply