Robotics;Notes Elite has been rated by the ESRB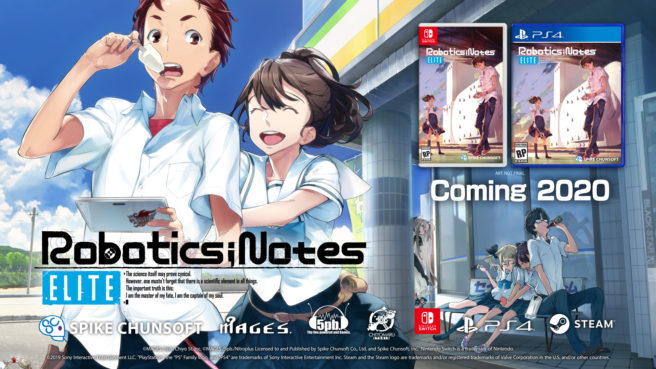 In July of last year, Spike Chunsoft announced that Robotics;Notes Elite would be released in the West with a targeted release date of "2020". Since then, the publisher has been silent on the game's release outside Japan. However, it seems like we might be fairly close to a release of the visual novel as it has recently been rated by the ESRB. The game received a "Teen" rating for the North American market. Here's the ESRB's full rating description for the game:
This is an adventure game in which players follow the story of a high-school student solving a mystery involving robotics. As players progress through the narrative, they may encounter instances of violence: a man pointing a gun at characters; a woman jumping off a cliff (off-screen) to her death; a woman pointing a gun at her head. In some sequences, players can briefly engage in robot battles, as players enter commands (e.g., on-screen prompts) to see attacks performed. In a handful of sequences, blood is seen pooling underneath a character's leg and staining a man's hands. The game also contains references to sexual material in the dialogue (e.g., "This sl*t is trying to be sexy"; "Mitsuhiko, you're gonna get sued for sexual harassment"; "You put sleeping pills in this, didn't you? Then while I'm asleep, you're gonna have your way with me"; "If possible, I wanted to gaze upon your nude bod for a little longer."). The word "sh*t" appears in the game.
Usually a game receiving an age rating means that its release is somewhat close. Hopefully there'll be an official announcement soon. The game's sequel, Robotics;Notes Dash, was also announced for a Western release alongside Elite, but so far it hasn't received an age rating.
Leave a Reply