Rumor: NX featured in GFK survey with possible details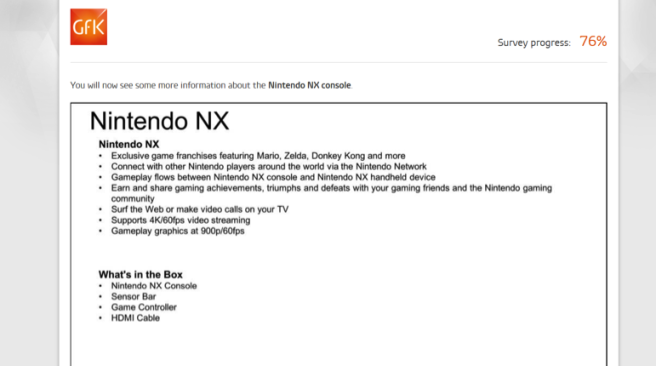 Well before Wii U was announced, plenty of rumors about the console popped up on a regular basis. Some were true while others were not. We're now in a similar situation with NX, Nintendo's next system.
If the latest rumors are to be believed, some information about NX has leaked through a GFK survey. It's worth mentioning that GFK is a client of Nintendo, and the survey has been verified. However, that doesn't necessarily mean that the information is legitimate. This could be a means of simply gauging how consumers would react to certain elements included in the survey.
The survey slide mentions a few notable aspects about NX. Achievements, 4K/60FPS video streaming, 900p/60FPS gameplay, and connectivity between a console and handheld device are all mentioned. However, to reiterate, there's no guarantee that any of the points listed here are true.
Leave a Reply