Sail Forth gets surprise release on Switch today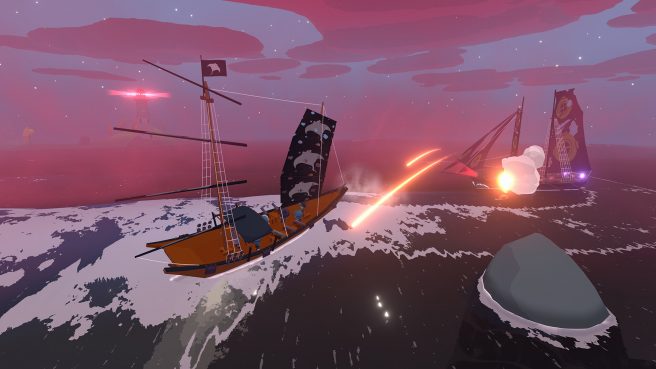 The wait for Sail Forth is over, as the game has just launched on Switch. This comes as part of a Holiday House of Indies Event from Nintendo with no prior release date announcement.
Sail Forth was technically delayed a couple of times. It was first planned for 2021, but was later bumped to Summer 2022. This summer came and went without any news, but the title at least made it out before the end of the year.
Here's some information about Sail Forth:
Awaken upon the remains of yer shipwreck with no memories n' direction. Tie together the remains of yer vessel to craft a makeshift sailboat n' seek answers across the Deepblue, embarking on a weighty quest where yer world's fate hangs in the balance. Master accessible, semi-realistic wind sailin' physics to navigate a wide, expansive ocean littered with six distinct island biomes.

Discover uncharted regions like the ice-filled Frigid Sea, ancient stone structures in the Green Ruins, or impenetrable treelines of Pine Peaks. Scan the coastlines fer upgrade materials, landlubber recruits, skulking Skull Clan bases, ability-locked containers (or contain'arrs?), among tons of other seafarin' activities. When yer treasure hoard runs dry, take on more than 30 side quests or challenge other swabs to a variety of mini games includin' boat racin', target shootin', card gamin', fishin' contests, or photo collectin'.

S'not all fun 'n games though, matey, as ye transform yer frail dingy into a fearsome fleet with over 40 weapons, 20 ships, plus eight types of stat alterin' crewmates to choose from. Befriend somber sailors or accept the apologies of remorseful renegades post sea skirmish to expand the crew into a full fleet of ships, formin' various attack or navigation strategies. Bring together the denizens of this here shimmerin' turquoise world to save the planet from seven deep sea baddies corrupted by a mysterious substance known, arr… The Deadrock.
The Quantum Astrophysicists Guild producer Michelle Lega said of today's announcement: "Holiday cheer has sailed to the high seas and brought the gift of Sail Forth!! We are also stoked to reveal two new modes to expand accessibility, Auto Sail and Free Sail. Auto Sail mode provides easier navigation for struggling sailors and Free Sail mode only offers the company of the open ocean and endless horizon. We appreciate everyone's patience this past year as we worked hard to ensure this adventure will be enjoyed by both realistic sailing fans and casual captains. Thank you all!"
View a launch trailer for Sail Forth below.
Sail Forth is out now on the Switch eShop for $19.99.
Leave a Reply