Saltsea Chronicles, story-driven adventure game, coming to Switch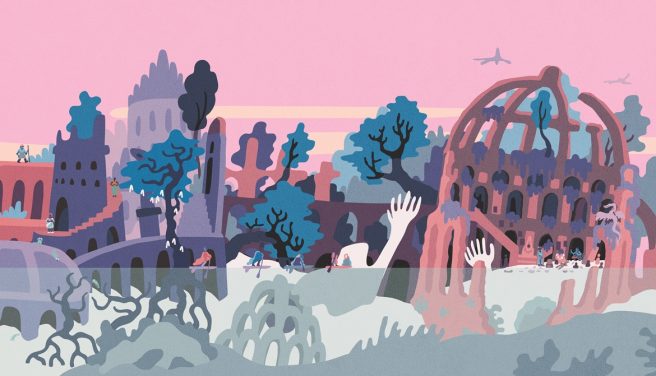 Today, Die Gute Fabrik unveiled its new project Saltsea Chronicles. The title launches for Switch later in 2023.
Saltsea Chronicles, a story-driven adventure game, takes place in a post-flood world as a crew of misfits must heist a ship and mount a rescue of their missing captain. The game features a series of islands, different communities, and a mystery at the heart of story.
Here's some additional information about Saltsea Chronicles:
Saltsea Chronicles is a new story-driven adventure game from the award-winning indie studio Die Gute Fabrik (Mutazione, Sportsfriends).

Captain Maja's misfit crew must heist their impounded ship and mount a rescue of their missing crew member. Guide the crew across islands of a post-flood world known as 'Saltsea'. Explore strange and wonderful communities, uncover a deep conspiracy, choose where to go and which crew members to investigate with, and chart a journey through a story told across an entire archipelago.

Visit different island communities as you investigate the mystery at the heart of the game. Each built on pre-flood ruins – in beautiful and beguiling ways. As you explore you will uncover different pathways through a rich and varied series of islands. This flooded world (betrayed by the so-called Hoarders) barely remembers a time before the Flood. They rebuilt on the ruins of what came before, and new talents and technologies took the place of the old. Many surprises await!

In Saltsea Chronicles you guide the entire crew through the story. As well as investigating the mystery of your captain's disappearance, you will uncover secrets, create and resolve tensions between the crew as well as adding to your number as you meet others who ask to join you.

Each episode you will pick which island to visit and who to send on the expedition – your choices will unlock different content, develop relationships, and give you a chance to resolve (and create) tensions within the crew.

With a lightning-fast navigation system, you're free to hop around the islands as you explore. Choose between short and snappy observations, or dig deep into conversations with your crewmate or the locals; explore the islands across different times of day.

Was your captain kidnapped? Or did she leave of her own free will? Keep track of the mystery in Murl's Log and collect records of your encounters as stickers in the Almanac. Different playthroughs will take you to different islands, meet different characters and have dramatic consequences for your crew. You can replay from any chapter and branch your save file to meet new crew members, explore different communities and trace alternative pathways through the rich and gripping story.

From an award-winning and diverse writersroom – with experience in Young Adult fiction, film, theatre, poetry and games – Saltsea Chronicles imagines a rich world. The game shows communities built from scratch and free of some of the baggage of our world. And yet is still complicated by universal questions of what it means to live together in the context of one another. A story which traces meaningful themes with humour, lightness of touch, and care.

Key Features

Distinctive print-inspired art style – A unique art style inspired by risograph print techniques brings a story-book aesthetic to the fantasy-tinged world of Saltsea Chronicles. Brought to life with beautiful bespoke animation.
Try your hand at Spoils – Spoils is a trick-taking card game from the world of Saltsea Chronicles. Play cards with each local community, but watch out – some islands have their own house rules!
An original score by Eli Rainsberry – IGF-nominated composer and sound artist Eli Rainsberry (No Longer Home, A Monster's Expedition) presents a musically hybrid score and soundscape guided by the spaces and characters of Saltsea Chronicles.
Navigate the drama as well as the seas – Tensions between crew members are represented by Issues, small 'relationships quests' you can track, resolve, or sometimes, just have to be left unsolved.
Studio director and creative lead Hannah Nicklin said of Saltsea Chronicles:
"One of my principles as a Creative Director is that how we make is as important as what we make, and I would describe the game as very process-driven. I didn't set out with a grand vision of the Saltsea Archipelago, I started with 'flooded world, ensemble adventure game where you play as a whole crew, not as a hero' and then designed processes to fill in the details and realize a world together.
"The writers room came together as different constellations of people over three distinct phases: ideation, writing and polish. With the excellent support of our Story Lead Char Putney and Tech Lead Katrin-Anna Zibuschka we put together workflows and systems that allowed people with little to no games-writing experience to bring their ideas and words to the game's stage. Our art team took their ideas and brought them to visual life. The programming team built the systems which brought them to technical life, Eli Rainsberry then composed the sounds of those spaces. The story team were the engine, but every team member was an invaluable part of the process.
"Another principle of creative leadership for me is 'aptitude is as important as experience', so as well as team members working at a Lead level for the first time (with built-in mentorship), we're proud to have supported several entry-level fully-paid story internships, plus hiring others we met through that process. 5 of our core team members (almost 20%) we found through entry-level positions. And with Die Gute Fabrik's 4-day week and flat pay structure we're also able to support and value all team members and their development.
"Excellence, intentionality and Care are the principles through which I hope to lead the company, and which we all instill in what we make. I hope that this work, just as Mutazione did, continues to be a place of refuge, intrigue, excitement and identification for everyone who plays."
Watch a trailer for Saltsea Chronicles below.
Leave a Reply