Sandbox game Garden In coming to Switch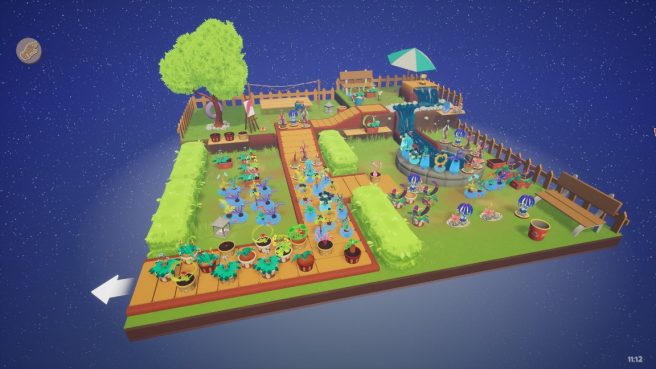 Today, Bonus Stage Publishing and developer Dramatic Iceberg confirmand that they're bringing Garden In to Switch. Double Jump Capital will also be providing investment for the relaxing sandbox title.
Here's an overview of the game:
The game starts in one room in which you are tasked to decorate to your liking. Your room is basically a perfect little sandbox in which you can move furniture around, paint the environment, and most importantly: grow plants. A lot of plants.

At first you have a few seeds available, you can plant them in soil, water, rocks, and you have a few pots to choose from. But as you advance, combine different seeds and try out different growing conditions, your seed library will grow and grow, until you are the most advanced horticulturist in the world. You also unlock new rooms and areas by playing the game further.
Dramatic Iceberg's Tommaso Verde said: "We started making the game because none of our team was able to keep their plants alive. We then decided we needed to learn some gardening skills, and just like that was the idea for the game born. Garden In is something we all need in our lives nowadays – relaxing and beautiful, with no worries or stress of the outside world. We're extremely happy to work with the publishing of Garden In because in the midst of the busy world we all need some time to relax in our gardens. Also what makes us happy is that thanks to our partner Double Jump Capital we're able to maximize the production quality of the game with their investment in the game."
"We are extremely excited to partner with Dramatic Iceberg and Bonus Stage Publishing to bring such a fun game to market," added Brett M. Brown, managing partner of Double Jump Capital. "We see enormous potential in supporting such an innovative, entertaining and enjoyable game and look forward to the success of Garden In!"
We have a trailer for the game below.
Garden In will launch digitally for Switch in early 2023.
Source: Bonus Stage Publishing PR
Leave a Reply