Savant: Ascent Anniversary Edition announced for Switch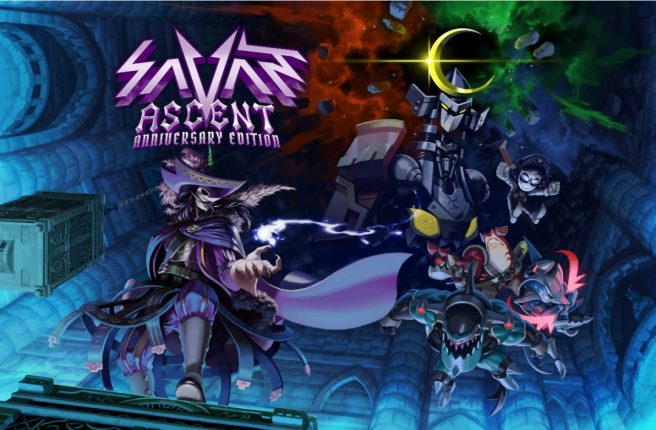 Owlboy developer D-Pad Studio today announced Savant: Ascent Anniversary Edition, a remastered version of the original game. It's heading to Switch sometime this summer.
Savant: Ascent is a shoot 'em up platformer that launched way back in 2013. The new Anniversary Edition includes "a host of brand new content, stages, bosses, powerups, and an entire original soundtrack created by the acclaimed Norwegian musician Savant."
Here's some additional information:
In Savant: Ascent Anniversary Edition, you play as the Alchemist, who's been cast down from his tower by an unknown force. Your goal is to ascend back to the top, with your movement limited at all times to two platforms, be they moving elevators or space debris. By using rapid volleys of magic missiles to take out attacking enemies and precise dashes and jumps to move between the two platforms, you must try to survive the deadly journey back to the summit.

This remastered version of Savant: Ascent enhances the game in every way. Unlock new dashing abilities to outsmart enemies, take on epic new bosses created especially for this anniversary edition and encounter enemies that amass in greater numbers than before in the brand new "Survival Mode." In Survival Mode, fearsome bosses appear of their own volition while you scramble to survive in the Endless Elevator.

Savant: Ascent Anniversary Edition is the ultimate way to experience a musical artist's persona as you've never done before! The game is based on the universe of Savant—developed in collaboration with Simon S. Andersen of D-Pad Studio (Owlboy / Vikings on Trampolines). Hear Savant's unrivaled genre bending in action as you obtain new pieces of the soundtrack and remixes. The game even gives you the option to customize your own playlist as you play.
D-Pad Studio's Simon Stafsnes Andersen said of today's announcement: Our studio is well-known for creating Owlboy, but I think a lot of people don't realize that we released a game before that. Savant: Ascent Anniversary Edition is a fantastic way to introduce that title to a new audience and offer a completely revamped experience for fans of the old title. I hope everyone enjoys trying out the game that birthed D-Pad Studio when it launches this summer."
We have a trailer for the game below.
Leave a Reply