SD Gundam Battle Alliance software update (version 1.20) available, patch notes
Posted on September 21, 2022 by Dawn in News, Switch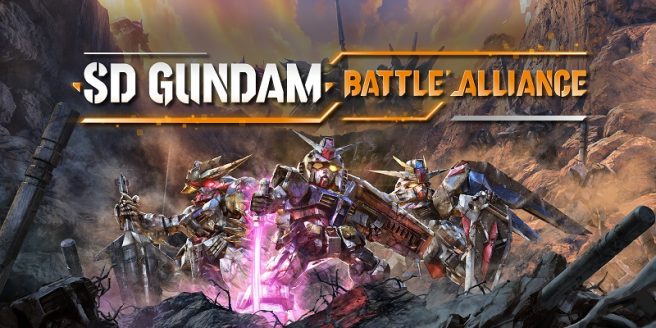 A new software update is now available for SD Gundam Battle Alliance, providing an extensive number of bug fixes, as well as unlocking higher levels for Mobile Suits, Pilots, and Partners, up to level 100. Full patch notes can be found below:
Unlock High Levels of Mobile Suits
MS level 100
Pilot Level 100
Partner Pilot level 100
*Uncapping materials is required to raise the MS level to 91 or higher.

Provide additional capital ticket for "1,000,000 capital"
50,000 CAPITAL x 20

Added Ex. Part – Chobham Armor
Chobham Armor [Infighter] / Chobham Armor [All-Rounder] / Chobham Armor [Sharpshooter]
Effect: HP: Power up +120 / Counter: Locked / All Melee Boost Consumption: Increased +20%
Free missions "EX Missions" have been added.
EX Mission 04, EX Mission 05, and EX Mission 06
*These are challenging missions that can be played after clearing all Hard Mode missions except for Chaos Missions.
The paid DLC mission "Knights of Moon & Light " is now supported.
The following missions will be playable if you have purchased DLC Pack 2.
"Hero of Lacroa", " Evil God of the Moon ", "EX Mission Extreme 3", and "EX Mission Extreme 4".
* Unit and Scenario pack 2 "Knight of Moon & Light" is scheduled for release on September 29th.
*Please note that in order to play "EX Mission Extreme 3" and "EX Mission Extreme 4," you will need to complete the " Hero of Lacroa" and "Evil God of the Moon " missions in addition to the free EX Missions.

The following settings can be selected on [Playstyle] in [Create Room] [Room Search]
[Download Content Only] / [Hard Mission Only] / [EX Mission Only]

Drop adjustment of blueprints
Certain blueprints for the "Cursed Treasure" and "Mythical Destination" missions have been adjusted to have a "probability" of dropping additional blueprints.

Fixes to presentation during Adventure parts
Fixes an issue causing the viewpoint of certain characters not to be properly aligned
Fixes to some Mobile Suits
Fixes an issue causing ground textures to be reflected when using a Special Attack (SPA) during some missions
Fixes an issue where an enemy Mobile Suit launching an attack with the DOM would sometimes land instantly if the DOM sub-munition 1 "Diffuse Beam Cannon" was hit from the ground
Fixes an issue where, when launching a series of attacks after a projectile attack by enemy The-O, Gelgoog Charles Rochester, or Destiny Gundam Mobile Suits, subsequent attacks would not be counted as perfect guard even if you succeed in triggering a perfect guard against the projectile attack
Fixes an issue where, if an enemy Knight Gundam waiting for a counter is located at the same place as the blast of Sub Weapon 1 "Electromagnetic Spear", then the enemy would be sucked in
Fixes an issue where, In the Awakened state after using an SPA in Master Gundam, the 5th step of the aerial combat attack would not connect
Fixes to enemy Mobile Suits
Fixes an issue in the mission The Shuddering Mountain, Part 1, where the GN-XIII would get caught in a building, preventing it from entering the combat area and preventing progressing
Fixes an issue where the Neo Zeong would attack with its Psycho Shard while its Psycho Shard Generator was not deployed
Makes adjustments so that the damage assessment that occurs following Huios Sky's thrust attack is cancelled
Makes adjustments to reduce the amount of damage dealt by the initial strike of The-O's throwing beam sabre
Fixes an issue with enemy counter counter moves, where if a counter was triggered by an attack from an opponent not being targeted by that enemy, the counter would be struck out
Fixes an issue where a perfect guard would be triggered if a shotting attack was launched against the rotating beam naginata guard of the Gelgoog Charles Rochester, or the shield stance of the Gelgoog (Anavel Gato)
When clearing a mission while your inventory is full, you were not able to sell items and were therefore stuck on the result screen. This was fixed by implementing a scrolling list function that allows you to select and view any extra items acquired
Fixes an issue where pressing Select and Back at the same time while the cursor is in the Equipped Skill column of the Skill Sets screen would prevent progress
Fixes an issue where Mission BGM and SPA BGM would play multiple times if the Mission BGM and SPA BGM were set to the same BGM
Fixes an issue where the Retreat option could not be selected if a guest with mission selection rights left the room during a 3-player multiplayer game
Fixes an issue where the host would temporarily lose control of the multiplayer mission select screen if a guest entered the lobby while the host was checking the Mobile Suit that appears in the mission
Fixes an issue in multiplayer missions where, after guests have left the lobby during the mission, if the mission is aborted while the Mobile Suit on the guests' side are still on screen, it would stop after results are shown
Fixes an issue where aggro lines would not be displayed on the guests' side during multiplayer missions
Fixes other graphics and text issues.

Nintendo Switch
Corrects the message displayed when, in online multiplayer, you attempt to enter a lobby that has been disbanded
Fixes the button guide of the player who last selected "Ready to launch" on the "Preparing to launch" screen in local multiplayer
SD Gundam Battle Alliance is available now for Switch.
Leave a Reply