Several Xenoblade Chronicles 2 songs added to Karaoke JOYSOUND for Nintendo Switch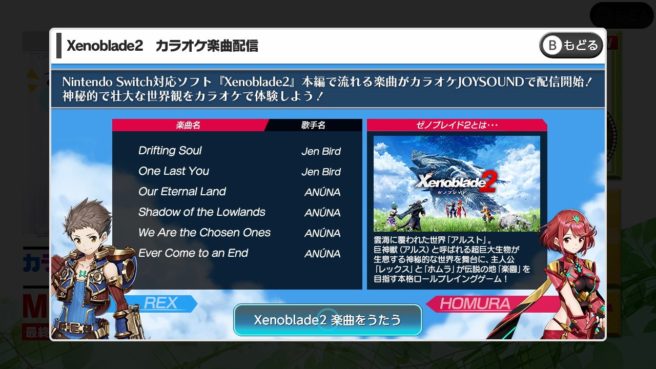 "Karaoke JOYSOUND for Nintendo Switch", as the name implies, is a karaoke game for Nintendo's latest system. Currently, it's only available on the Japanese eShop. The game is free to download, but to actually sing the songs you need to buy tickets that will let you access them for a given period of time.
The game features a video variety of songs – and it just added a few more that might be of interest to Nintendo fans. Specifically, six songs from Xenoblade Chronicles 2 are now available: "Drifting Soul" and "One Last You", sung by Jen Bird, and four songs by Anúna, Ireland's national choir: "Our Eternal Land", "Shadow of the Lowlands", "We Are the Chosen Ones" and "Ever Come to an End".
Leave a Reply