Shakedown: Hawaii launches for Wii U on August 20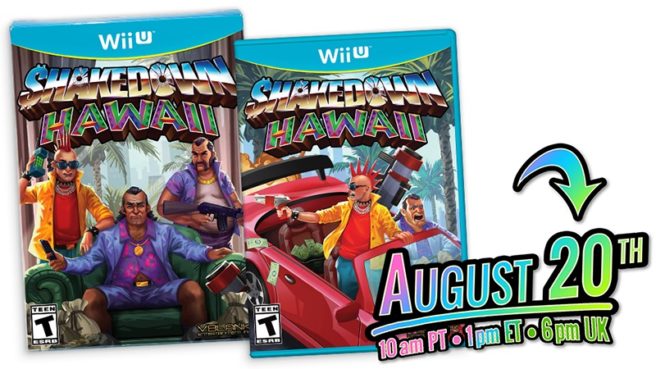 Shakedown: Hawaii will arrive for Wii U on August 20, Vblank Entertainment has announced. It will be sold both physically and digitally.
For the boxed release, two versions will be sold. A standard edition is planned for $24.99, along with a special edition for $29.99. The special edition has a digital soundtrack and protective case with alternate cover art as extra goodies. Each physical version is limited to 3,000 copies.
Here's some additional information about the Wii U release:
The Wii U version include all of the currently released content and feature updates, including the Mogul Update, the Full Tank Update, and the many other little tweaks, improvements and optimizations that went into the game post-launch.

They support both SD and HD, 4:3 and 16:9. You can play the Wii U version with the GamePad, Wii U Pro Controller, Wii Remote, Wii Classic Controller, or Wii Classic Controller Pro. It can be played entirely on the GamePad (with touch!), or on the TV from the comfort of your couch.
The physical versions of Shakedown: Hawaii will be going on sale on August 20 at 10 AM PT / 1 PM ET / 6 PM in the UK / 7 PM in Europe. They'll be sold exclusively through Vblank's store.
Thanks to Adam S for the tip.
Leave a Reply