Sherlock Holmes: The Awakened announced for Switch, remake of the 2006 game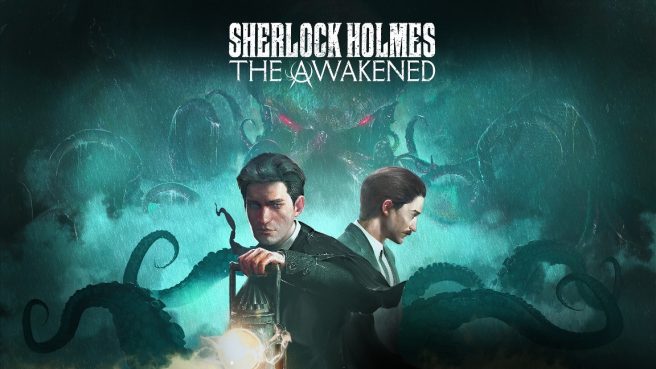 Original (7/28): Ukrainian studio Frogwares has revealed Sherlock Holmes: The Awakened, "a full remake and substantial rewrite of their 2006 release of the same name." The project is planned for Switch.
Sherlock Holmes: The Awakened is described as "a dark, HP Lovecraft-inspired story infused with the narrative arc of a young Sherlock Holmes taking on his first big case once he settled in London." Frogwares will be using Kickstarter "to help secure the game's final production funds and offer fans a few more bonuses and rewards for supporting the studio at a time when their country is at war."
Here's some information about the game:
The Awakened remake sees a young Sherlock take on his first major case alongside his newly acquainted sidekick, John Watson. What seems like a straightforward case of a missing person quickly spirals into a web of conspiracies by a nefarious cult that worships the eldritch god Cthulhu and are attempting to bring about an ancient prophecy. The game will take the detective duo across 4 locations – Victorian London, a Swiss psych ward, the New Orleans bayous, and the Scottish Highlands – as they try to separate reality from the supernatural while trying to put a stop to these shadowy madmen.

Why Are We Making This Game Now?

The idea of using the unsettling and horror-filled events in The Awakened to continue our young Sherlock arc has been floating around the studio for a while. The supernatural, all-consuming cosmic horror setting and gameplay work extremely well as a monumental, life-altering moment in Sherlock's formative years. Something that tops what we already did in Sherlock Holmes Chapter One and lets us continue our creative take on what Sherlock could have experienced to become such a broken and haunted genius. The story is also set up well as a great opportunity to give our take on how the profound bond between Holmes and Watson could have cemented itself. It's something we intentionally didn't cover in Sherlock Holmes Chapter One, but a part of the Holmes story we knew we'd like to one day cover. A profound and haunting experience that essentially brings them together.
Sherlock Holmes: The Awakened is essentially being rebuilt from scratch in Unreal Engine 4. There'll be new graphics and assets, new and redone animations, full cutscene overhauls, additional investigation gameplay mechanics, a rewritten story to connect with the case from The Awakened to a younger Sherlock, an enhancement to the plot behind how Watson and Holmes came to be so close, minor story rewrites to the cases, additional side quests, new English voice-over recordings and translations into multiple languages, a UI overhaul, change to contemporary third-person perspective camera, and additional quality of life features.
As for the decision to go with Kickstarter, Frogwares Sergey Oganesyan' explained that the war in Ukraine "is continually throwing new challenges at us that each time requires we stop, regroup and adapt. This takes time, effort, and in some cases money that would normally be marked to fund the production of a game."
He also said:
"We have the bulk of the content, new features, and storyline all mapped out and locked in. But we have rewritten the original story a fair bit and plan to use all-new voice acting so we need to now record and also translate all this from scratch. As the plan is to launch the game on five platforms we will also need extensive QA time and resources. And lastly, the team has additional features and enhancement ideas that we would like to consider adding if we were to have additional resources."

"Through crowdfunding, we can secure all these needs and also safeguard the overall funding of the game, knowing full well we now have the guaranteed means to finish the game and handle any hurdles we could face as this war evolves. This safety net will allow us to put our team's needs and safety first as we adapt further without derailing the entire development and funding."

"And lastly, we also know we have a group of dedicated fans who enjoy and support our games and want to help us as best as they can right now. Through Kickstarter, we can offer these fans the chance to buy our next game now and be rightfully credited for their support in the game itself while also helping to determine some of the game's final content and giving them a few extra rewards and bonuses."
The Kickstarter campaign for Sherlock Holmes: The Awakened will open at a later date here. View a few screenshots below.
---
Update (8/4): The first trailer for the Sherlock Holmes: The Awakened remake is available below. The Kickstarter campaign is also now live here.
Source: Frogwares PR
Leave a Reply