Shoot 'em up game Remote Life releasing on Switch this month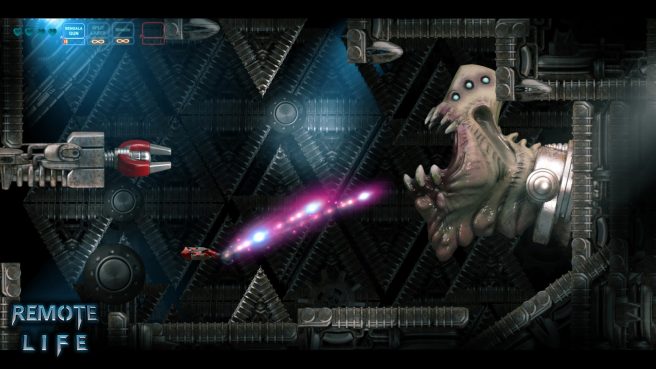 Today, publisher Ratalaika Games has teamed up with developer Next Game Level to bring Remote Life to consoles. The shoot 'em up title will be available for Switch on May 27, 2022.
Here's everything you need to know about the game as provided in the official overview:
Remote Life is a 2D side scrolling space shooter.

The graphics are huge 3D pre-rendered sprites and are gorgeously animated. It is full of cool menacing monsters. The backgrounds look fantastic and fit perfectly to the Alien world. The Bosses look so infinity creepy and scary that the cg-artist had to design them with closed eyes.

There are an immense number of weapons. You are surrounded by such a Brutal-Frenetic-Sci-Fi-Techno-Alien World that is so brilliantly credible that you can almost smell the gasses that the aliens create when you blast them off. The soundtrack fits perfectly to the theme and the pace of the game. This game is is a full immersion in an unseen world.

Key Features

– Fantastic visual effects
– 16 Amazing Missions, each different from each other, which guarantees a great variation of gameplay. Each Level is a whole new experience
– Auto-Save of Level Progression
– Great atmosphere and a Mysterious a Story
– Over 18 Weapons

A Training/Tutorial stage that allows you to master the game mechanics before you go through the real missions
3 difficulty levels that you can choose according to your skills and experience. Additionally an I.A. system will analyse your skills and help you with extra-lives if this is required

3 Graphic Modes: Choose between HD modern graphics, 8 bit and a 16 bit graphic mode to get the feeling of an old home computer or an arcade cabinet

3 Spaceships (and four colours to choose) + special vehicles

A massive number of enemies and no repetitive boring enemy patterns, but enemies with an aggressive IA.
Special Escort missions. They require great concentration and skills

Open World Exploration missions in Huge Spaces.

Remote Life is not the usual remake, reboot or a longing to the past. It stands for a modern approach of playing a 2D game in space.

Story

A Huge and menacing Alien Hive is approaching our planet. The only way to defeat it is to get inside and destroy it from the center. You are John Leone, an ambitious pilot, ready to fire all his ammo inside the jaws of horror ! Take your space Jet and save our planet. Discover the reason why the aliens are attacking us and experience a mysterious story behind this attack. But beside all this: SAVE OUR PLANET!
A trailer for Remote Life can be found below.
Remote Life will be sold on the Switch eShop for $18.99 / €17.99 / £14.99.
Source: Ratalaika Games PR
Leave a Reply