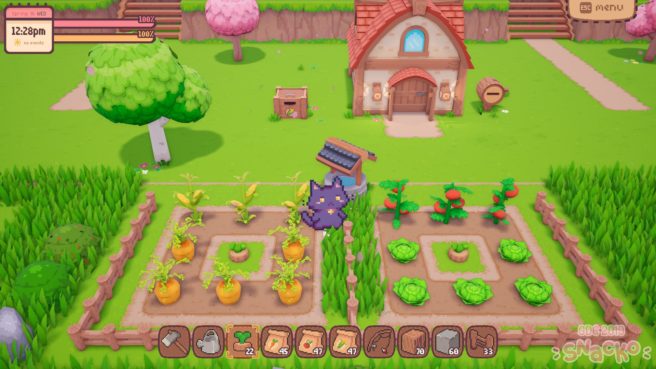 Bluecurse has confirmed that its RPG Snacko is coming to Switch. A release is tentatively slated for 2021.
In Snacko, players will farm, fish, cook, craft, as well as customize farmland and the main town. It's all surrounded by a plot in which you're tasked with restoring an island after Miasma overtakes the area.
Here's an overview of Snacko, along with a trailer:
Set in a universe ruled by cute animals, the game takes place on the Island of Snacko, an island known in the past for its rich natural resources and bountiful farming town. Abandoned after a mysterious event causes Miasma to overrun the island, corrupting the native creatures and forcing it's animal inhabitants to leave. Excited by the challenge of returning the island back to it's former glory, you set on uncovering the source of evil, leaving your cushy job behind on the mainland and traveling to Snacko Island to begin your new life. Play as a cat as you traverse this new land with your best friend. What will you do on the Island of Snacko?

Features
– Classic farming sim gameplay: farm, fish, cook, and craft!
– Customize your farmland: craft different types of fences, storage units, and more. Use these objects to spruce up your plot of land
– Customize your town: choose from a variety of exterior styles for houses, decorate with different items your villagers could interact with
– Recruit a variety of villagers: send out letters to seek help in rebuilding the island. Based on what you write, different types of animals will reply. Who will you choose to move in?
– Explore and unlock new areas: recruiting different types of villagers will unlock new areas to explore. Each area has their own unique resources, monsters, and mysteries to solve
– Play your way: experience a cute and cozy island with a simple story. It's up to you to fill in the details! What's your ideal island?
Leave a Reply