Snow Bros. Special announced for Switch, return of the 1990 arcade game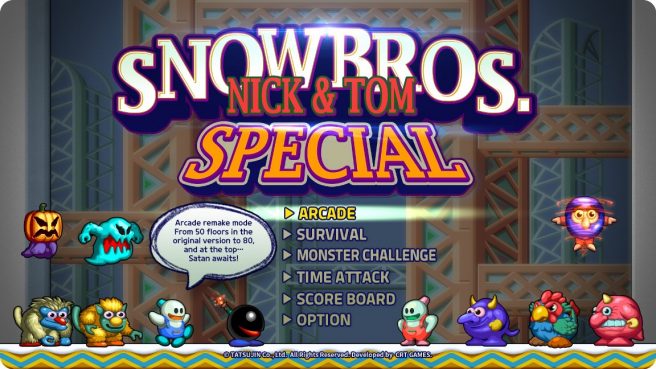 The classic arcade game Snow Bros. is on the way to Switch and will hit the system as Snow Bros. Special, it's been announced.
Toaplan was behind the title originally, which released in 1990. For the Switch edition, Snow Bros. Special "has inherited the cute design and the feeling from the original arcade version but has been upgraded to make it even more fun."
It's been confirmed that a new element is the "Monster Challenge" mode in which you play as the monsters. Each monster has its own special moves and controls which will change how you play the game. Those that pick up Snow Bros. Special physically will automatically receive Monster Challenge while it'll be separate DLC for the digital version.
Here's a first look:
Clear River Games will be handling the physical version in North America and is publishing throughout Europe. Daewon Game Media Lab will be in charge of the digital version in North America. The physical version will include an instruction manual and three sticker sheets.
Snow Bros. Special launches on Switch later in 2022. A release date will be made known soon, and we'll bring you that information as soon as it's announced.
Source: CRT Games PR
Leave a Reply