Speed Crew, pit crew-inspired party game, coming to Switch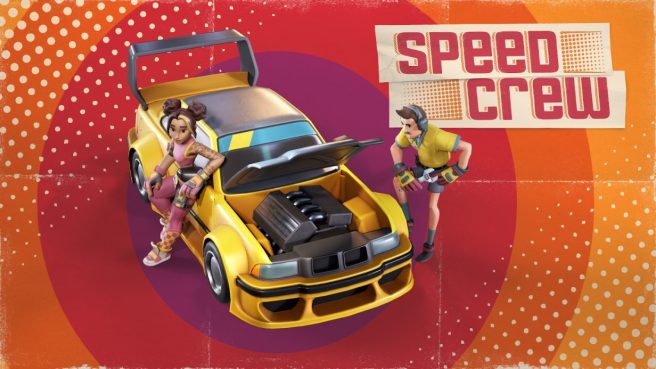 Original (3/7): Today, Ukrainian studio Wild Fields revealed that it's working on Speed Crew for Switch. A release is planned for June 6, 2023.
Speed Crew is a pit crew-inspired party game. You suit up as a member of a racing team's pit crew, and up to four players must replace tires, hammer out damage, and aim to get their drivers back in the race before time is up.
More information can be found in the following overview:
Speeding straight into the action on race day, mechanics will need to handle a range of tasks, including tire changes, refuelling, and taking a hammer to damaged surfaces. With over 40 different ways to fix cars, many of which involve multi-step processes, only the most well-oiled crews will have what it takes to reach the checkered flag. This is no leisurely Sunday drive, as they contend with dynamic environments too. Moving floors, sudden weather changes, and locking gates all grease the wheels of complexity to even the most simple seeming pit stop. There's no way to know what repairs each car needs until they enter the pit box, so even an organised pit crew can be thrown into chaos, and split-second decision-making could be the difference between victory or defeat.

Teamwork is the main driver in order to survive the bumps in Speed Crew's road. Offering options for both local and online cooperative play with up to four players, Speed Crew delivers a race-winning co-op experience no matter where in the world your crew is. There's even an option to give underperforming crewmates a quick slap if inspirational words don't do the trick! Speed Crew leans into its vibrant aesthetic by offering an extensive range of both character and vehicle customization options because we all know the only thing more important than nailing the perfect pit stop is doing it in style. If that wasn't enough, the game pays homage to the legends of motorsports with distinct levels set in the 1970s, 1980s and beyond, where style was just as important as speed.

Key Features

Control a chaotic race day pit crew and fix cars in over 48 levels
Replace engines, change tires, hammer out dents and much more
Dynamic stage hazards ensure that no two pit stops are the same
There's no I in team! Communication and cooperation are crucial to victory on track
Become a smooth operator with a wide variety of customization options
Take a look at a trailer for Speed Crew below.
---
Update (3/14): The game has been delayed, but only by a couple of days to June 8. This is due to "technical difficulties."
Leave a Reply