Steins;Gate: My Darling's Embrace, Steins;Gate 0 get surprise release on Switch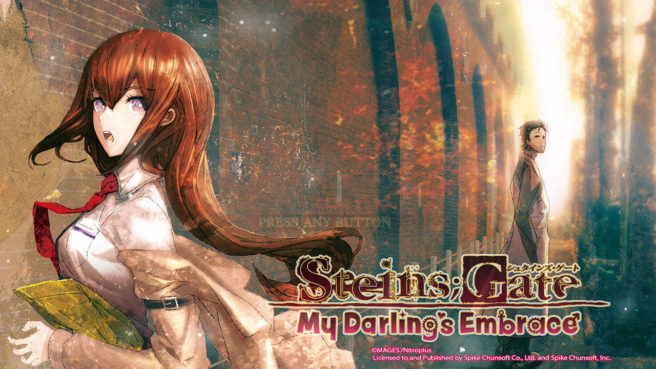 Update: Steins;Gate 0 also received a stealth release on Switch for the same price. We've updated this post accordingly with the proper information.
---
Original: Spike Chunsoft has just stealth-released the visual novel Steins;Gate: My Darling's Embrace for Switch. It's out now digitally on the eShop for a launch price of $26.99 (regularly $29.99).
Steins;Gate: My Darling's Embrace originally released on Xbox 360 in Japan several years ago where it was known as Steins;Gate: Hiyoku Renri no Darling. The title was also included with Steins;Gate: Divergencies Assort, which came to Switch in Japan back in March. This is the first English release.
Steins;Gate: My Darling's Embrace
Fall in love with the lab members all over again in this sweet and slapstick romantic comedy!

Follow Your Heart

Explore the private life of Rintaro and your favorite lab members in a series of "What if?" scenarios.

Love Isn't a Science

The hard science of STEINS;GATE takes a back seat to let the slapstick story run wild!

Phone Trigger System

Interact via Rintaro's cellphone to answer or ignore calls, and send and receive emails. Your everyday choices in life steer the story!
Steins;Gate 0
A new story in the critically-acclaimed STEINS;GATE series. From the depths of despair–explore a whole new world line. Your favorite characters return alongside a brand new cast!

STEINS;GATE 0 continues the time travelling theme – but adds artificial intelligence as its central hook.

Help a group of young students bend time to their will and prevent the onset of World War 3.

Beautiful artwork and engaging story for an unforgettable experience.

Tells the story of an 'Alternate Worldline' – what happens if players failed the original story.

Interact with the story using your smart phone – answering (or not!) your phone, and your responses, will determine the outcome to the story.
Source: Switch eShop
Leave a Reply