Strange Horticulture gameplay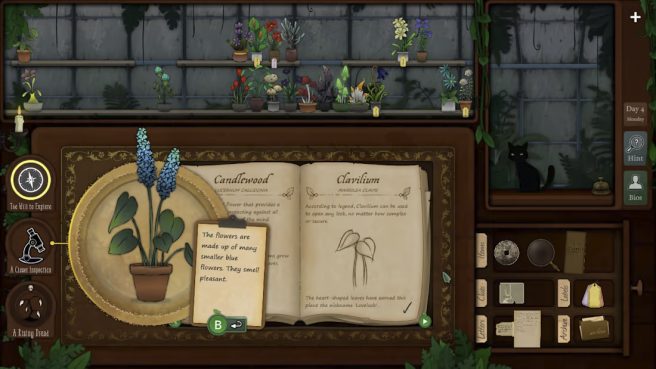 The occult puzzle game Strange Horticulture landed on Switch this week, and new gameplay has emerged. 18 minutes of footage has come in.
Here's some information about the title:
Strange Horticulture is an occult puzzle game in which you play as the proprietor of a local plant store.

Find and identify new plants, pet your cat, speak to a coven, or join a cult. Use your growing collection to influence the story and unravel Undermere's dark mysteries.

Explore the lands beyond your store to find new plants, but be careful! The dark woods and lakes are not always friendly to a simple herbalist. You might discover powers beyond your wildest dreams – or lose your mind completely. Use context clues to determine which places to visit, and which to avoid!

Using your trusty encyclopedia and clues found on your explorations, you'll learn more about the strange plants you come across. By identifying each plant, you will be able to use their effects to influence the story — from hypnotic hallucinogens to powerful poisons.
Get a look at the gameplay for Strange Horticulture on Switch below.
Strange Horticulture is being offered digitally on the Switch eShop. English, French, German, Italian, Japanese, Korean, Russian, Simplified Chinese, Spanish, and Traditional Chinese languages are supported.
Leave a Reply