Strategic puzzle and tower defense game JARS announced for Switch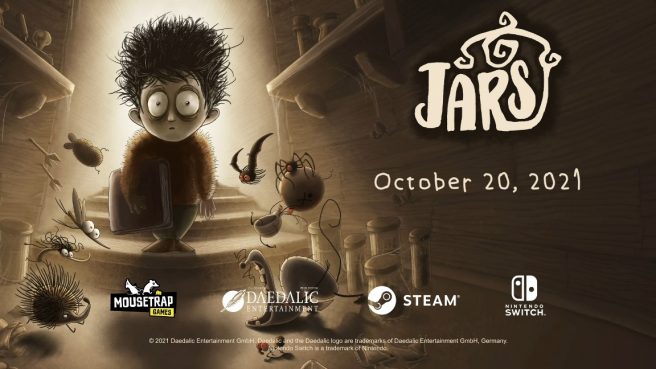 Publisher Daedalic Entertainment and developer Mousetrap Games have announced that they're working together to bring JARS, a strategic puzzle and tower defense game with a hand-drawn art style, to Switch. It will launch for Nintendo's console on October 20.
Here's an introduction to the game's premise:
In the musty depths of his parent's basement, young Victor tries to discover the secrets buried beneath his house. Why are there pages missing from this mysterious book and whatever is Dracula doing down there? On his bizarre adventure Victor will come face to face with nasty creatures, hiding in the shadows, and will have to keep them away from the Sarcophagus.
JARS will have Switch players breaking the jars in the cellar so that they can reach the goal. The contents of the jars are always different.
Another aspect of Jars involves deploying minions and items like mosquitos, acorns, and hedgehogs to destroy every jar, defeat the nasties crawling through the cellar, and defend each level's Sarcophagus. Daedalic says: "Finding the perfect strategy by choosing the right minions at the right time, and combining them with items and other upgrades, is essential to ensuring Victor's victory."
Have a look at a trailer for JARS showing the game in action below.
JARS will be sold digitally for Switch via the eShop. Pricing has not been confirmed at this time.
Source: Daedalic Entertainment PR
Leave a Reply