Super Mario 3D World Switch details cover Bowser's Fury – how long to beat, structure, amiibo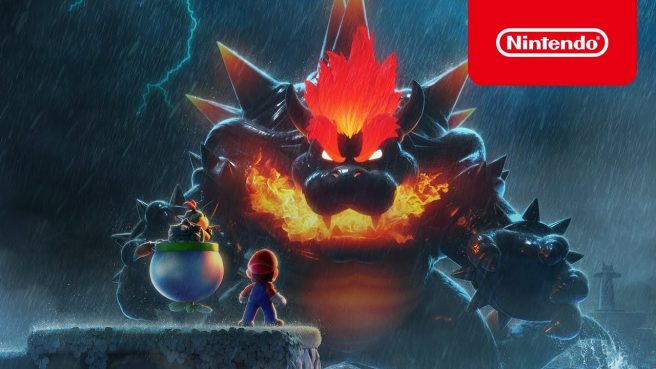 New previews for Super Mario 3D World on Switch provide a bunch of details on the Bowser's Fury part of the experience. We have information about how long it takes to complete, what the actual game structure is like, and amiibo usage.
Here's the full rundown of tidbits:
– GamesBeat says it took 3 hours to beat Bowser's Fury
– Another 3 hours to unlock all 100 Cat Shines
– Bowser's Fury takes place in one giant world
– Within that large, seamless world exists smaller subsections, which are like the individual stages
– They just all exist in the same open space, many of them as islands in a big lake
– Each of these areas hosts a handful of unlockable Cat Shines
– You can earn each of them by completing an objective
– Ex: complete a linear obstacle course
– Some are more hidden, some require you to collect multiple items to unlock (similar to the red coin challenges from Super Mario 64), and some only become accessible if Fury Bowser blasts a wall open with his fire breath
– You'll find even more Cat Shines hidden in the watery areas between these stages
– Can't hurt Fury Bowser unless you've collected enough Cat Shines to turn into a giant Giga Cat Mario
– Otherwise, you'll have to dodge his attacks until you collect a Cat Shine or he tires himself out
– Some Cat Shines are only accessible while Fury Bowser is out
– Can use the Switch's touchscreen or – if you're playing on your TV – a controller's gyro controls to point and click Bowser Jr. toward powerups he can unlock with his magical brush
– This works similar to the pointer in Super Mario Galaxy from Super Mario 3D All-Stars
– GamesBeat says, "This is the largest open space that Mario has ever had to run around in"
– To utilize an amiibo, just like 3D World, you need to hold left on the d-pad until the amiibo symbol comes up, then scan one
– Using Bowser on the amiibo NFC point will immediately wake Fury Bowser from his slumber
– All Bowser amiibo have the same functionality
– Bowser Jr. amiibo lets you unleash an explosion of sorts
– You can't spam it as it has a cooldown
– Other amiibo summon random power-ups
Super Mario 3D World + Bowser's Fury releases for Switch on February 12.
Leave a Reply