Super Mario Odyssey early tech analysis, docked vs. portable comparison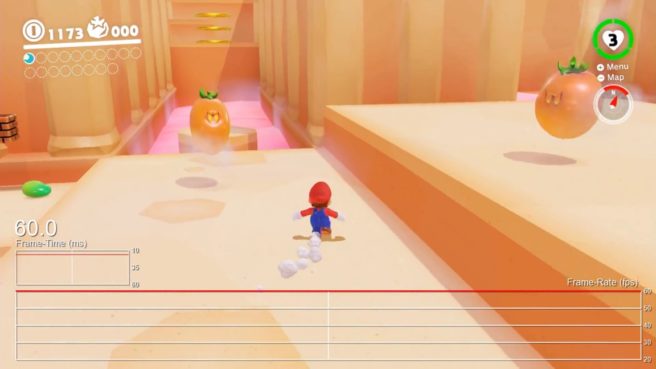 Digital Foundry was able to take Super Mario Odyssey for a test run earlier this month. Even before the final launch, the outlet spotted some notable improvements over the E3 build. We're also able to see how Odyssey stacks up in handheld mode.
One notable improvement to point out right away is the docked resolution. Previously, Super Mario Odyssey ran at 1280×720. It has since changed to 1600×900. Worth noting, Super Mario Odyssey has the highest resolution of a 3D Mario to date while still running at 60 frames per second.
In portable mode, Super Mario Odyssey runs at 1280×720. But during cut-scenes, the resolution drops to 640×720. Other changes in handheld mode include a lower res lighting buffer, more restricted bloom, a hit with shadows in areas like the Seaside Kingdom, and a shorter draw distance. Super Mario Odyssey continues to hit 60 frames per second though, and some of these changes may not be noticeable when playing on the smaller screen.
One interesting thing to note is that Super Mario Odyssey drops to 30 frames per second when taking snapshots. That's likely because Nintendo has implemented some improved techniques when gameplay stops so that your photos can look even better.
We've included Digital Foundry's full Super Mario Odyssey analysis below.
Leave a Reply