Superhot: Mind Control Delete coming to Switch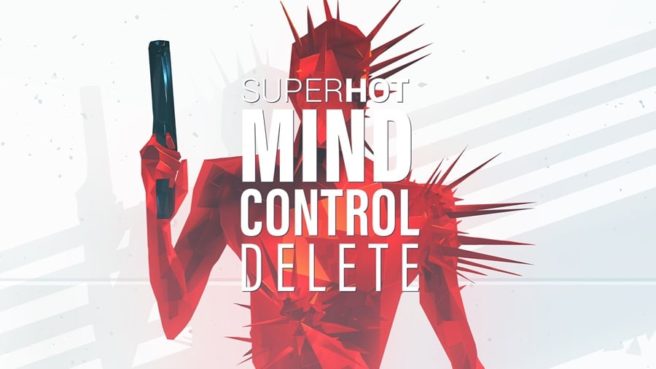 Superhot Team has announced that Superhot: Mind Control Delete, a new addition to its first-person shooter series, will be made available on Switch. The initial release is happening next week, though it'll be on Nintendo's console at a later date.
Here's a bunch of information about Superhot: Mind Control Delete, along with a trailer:
Superhot: Mind Control Delete is a full-featured, standalone game set in the Superhotuniverse. It is four times larger than the original Superhot, expanding on its signature time-bending gameplay that millions of fans know and love. It allows the players to delve deeper into it's slick, polished world, to spend hours upon hours in intense slow-motion combat, fighting their way through layers of the system, uncovering mysteries, searching for meaning.

Still outnumbered and always outgunned, new enemies swirl around you in a storm of slow-motion violence. Battle after battle, each fallen foe pushes you closer to the secrets hiding in the game. You feel an obsession set in. Good, it's just a game. Good, you can just stop.

The closer you get to the core, the more powerful you become. You amass an arsenal of new skills and new weapons. You uncover snippets of precious knowledge – of the meaning that you crave so much. You shoot and slice. You move forward. You repeat. You repeat. You repeat. It becomes a ritual. It starts to mean something again.

Over three years of intense production later, Mind Control Delete is by far the largest, most polished title ever released by the studio.

Mind Control Delete gives you more insight into the world of Superhot, more story, more signature gameplay. What started as a free DLC is now something significantly MORE:

– Much (Much) Bigger than its predecessors. MCD immerses you in its world for days of increasingly explosive slow-motion combat. MCD is over 4x the size of Superhot.
– More Mechanics at your disposal than ever before. Master different play styles, different character builds, different ways to outsmart and dominate your enemies.
– More Power to accumulate as you progress through the game. Amass new skills, new hacks, special techniques to conquer waves of ever more dangerous enemies.
– More Characters for you to control and more enemies to fight. Test your arsenal of tricks and weapons against increasingly deadlier, smarter foes.
– More Shiny Polish applied over nearly four years of Early Access development. MCD offers a more refined, sharper, special flashier experience than any Superhot so far.
– Bodies are disposable. Mind is software. Software is free for the loyal.
Those who purchase the original Superhot on Switch before July 16 can receive a free copy of Mind Control Delete on PC by showing their eShop receipt to [email protected]
Source: Superhot Team PR
Leave a Reply