Switch dev talk – 50,000 yen for a kit, Capcom wants to make AAA games, much more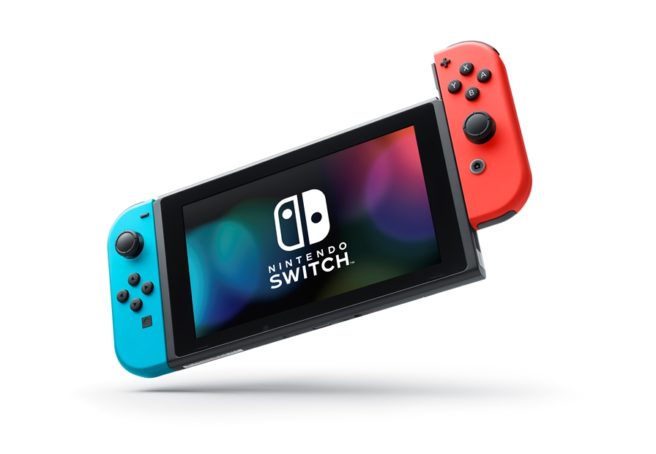 Earlier today, the Game Creators Conference was held in Japan. At the event, Nintendo's Masaru Mitsuyoshi held a joint session with Capcom's Masaru Ijuin about Switch.
One big thing to get out of the way: Switch development kits. These are planned for a cost of roughly 50,000 yen. If you're doing a direct conversion, that'd be about $450 / $500.
Originally, the Joy-Con controllers were still in the research phase and weren't included in the explanation document. Ijuin from Capcom said that there was only a touch panel form factor and nothing like the Joy-Con. Because of that, he wasn't sure in what way the device would be portable. Then after the Joy-Con appeared, he thought "I got it!".
Hardware specs for Switch focus on high performance and low power. It means you can achieve nVidia GeForce's high performance capability in TV mode, and you also can use the same device running with a battery in tabletop mode and portable mode.
There was also some talk about how Nintendo achieved high performance and low power in portable mode and how it differs from smart devices. Nintendo is adopting an original operating system. You can use plenty of hardware resources for gaming apps and it can secure enough memory space for these apps as well.
Nintendo is putting a high priority on wireless. Even if you go from TV mode to portable mode with Switch, it transmits without a disconnection.
Next, the talk shifted to developing games while hardware is also in development. Capcom had been working on Ultra Street Fighter II for the new system. They are using their original engine MT Framework for the time being. The engine has plenty of actual results already and it had previously run on Nintendo hardware, so it made sense to use the technology. Lots of staff at Capcom are used to the engine as well.
To implement Switch compatibility with the MT Framework, Capcom begin to develop an environment to quickly examine the hardware right away. They initially excluded support of hardware-specific features and also excluded sound and network support. After this, Capcom began to develop a PC emulation environment in parallel. Nintendo provided a GPU emulator which is capable of recreating the same shader of the actual console on PC. The Switch version of the GPU emulator is enhanced, so it was easier for Capcom to create a PC emulator. It's very easy to do iterations on PC, so the advantage of preparing a PC emulator is quite big.
One month was used to understand tools, development environment, and the SDK. Since they had been busy working on other titles, they only could secure two programmers. But with only one month with two people, they could port basic engine features.
The reason why it only took a couple of months was because the staff were accustomed to porting. Previously, they developed a Wii U version MT Framework. Also helping the situation was how the hardware structure was easy to understand, and they could use experience of creating conversion process from HLSL to GLSL.
The port process was overwhelmingly faster than 3DS or Wii U. On 3DS, it took four months with four people. On Wii U, it took three months with five people. The hardware structure was very easy to understand and it also had similarities to Wii U, so that they could achieve it in a month with two people.
About main memory space, Capcom had told Nintendo that the initially planned space wasn't enough. If you are comparing to what's inside other current-gen systems, it definitely wouldn't be enough. In the end, Capcom's request was accepted and the memory capacity became as per to their expectation.
There was some talk about whether they should go capacitive or pressure sensitive with the touchscreen. The situation was considered based on the associated costs. Of course, it's difficult to build hardware while making the right balance between feature and costs. As we know, ultimately Nintendo decided to implement a capacitive touch screen.
To examine the situation with the CPU clock and power consumption, it is necessary to have a high-load application which is close to the product level. During the early development stage, there are not many environments which fit that need. But since Capcom was able to get a grasp on Switch in just a month, Nintendo offered Capcom to work on the task.
In order to polish up the hardware, Nintendo and Capcom collaborated using each other's specialties. It wasn't a one direction collaboration, but rather a two way interactive collaboration. Nintendo and Capcom built up a trusting relationship while going through a trial and error process.
Another part of the session was about issues to examine for the future. Since Switch's SOC power consumption takes a bigger toll on the GPU than the CPU, Capcom asked Nintendo about implementing a feature to adjust the GPU clock corresponding on scenes (note: this is a development term), but Nintendo said that even if you lower the clock, the overall processing time will be longer and it won't necessarily give an advantage in the end.
Finally, Capcom is looking into having the RE Engine, made specifically for Resident Evil 7 (and likely to be used in future titles) to be compatible with Switch. The company also wants to develop AAA titles for the platform.
Leave a Reply