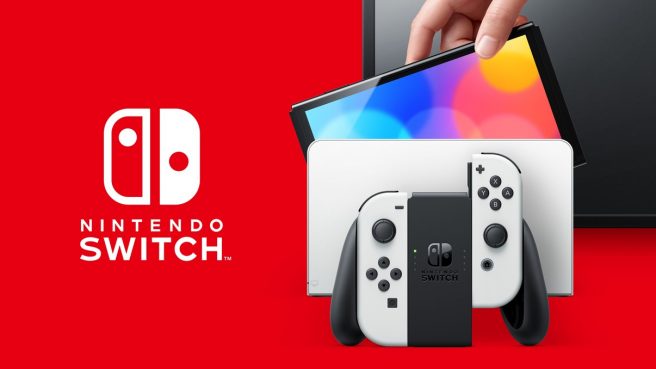 We shared a couple of tidbits from a Switch OLED FAQ published by Nintendo UK earlier this week. Nintendo of America has also come up with its own extended version.
Here's the FAQ in full:
What are the differences between the Nintendo Switch (OLED model) and Nintendo Switch systems?

The Nintendo Switch (OLED model) features a 7-inch OLED screen, for vivid colors and sharp contrast. For more details, visit the Compare Systems page.

What does "OLED" mean?

OLED stands for "organic light-emitting diode." An OLED screen does not have a backlight like LCD screens, instead displaying images using light emitted by each individual pixel.

Deep blacks can be represented by turning a pixel's light off, allowing for sharper contrast.

What's included with the system?

Your new system comes with everything you need to pop in a game and play, including:

Nintendo Switch (OLED model) console
Nintendo Switch dock with LAN port
1 Joy-Con (L) controller, 1 Joy-Con (R) controller
2 Joy-Con wrist strap accessories
Joy-Con grip accessory
Nintendo Switch AC adapter
HDMI cable

Do I need to buy anything extra to play with my friends and family?

You'll be able to play select games for up to two players with the included Joy-Con (one controller per person).

You'll also be able to purchase extra controllers for multiplayer games for 3+ players.

Can I earn My Nintendo points on Nintendo Switch games?

Yes, you can earn points in many ways, including by purchasing games. You can then redeem those points for digital rewards or discounts.

If you haven't joined the free My Nintendo rewards program yet, head to my.nintendo.com today to get started.

Can I play with my friends online? How about locally?

The Nintendo Switch family of systems supports multiplayer gaming options of all kinds. You can play together online or in the same room using one system or multiple systems.

Specific features vary by game, such as voice chat or split-screen play, but sharing fun with friends and family is a key focus for Nintendo Switch.

A Nintendo Switch Online membership may be required for online multiplayer and other online features in compatible games. This service also gives you access to classic NES and Super NES games, cloud saves, a smart device app, and exclusive offers. To learn more, visit the Nintendo Switch Online site.

*Additional games, systems, and/or accessories may be required for multiplayer mode. Nintendo Switch Online membership and Nintendo Account required for online features. Not available in all countries. Internet access required for online features. Terms apply. nintendo.com/switch-online. Games, systems, some accessories, and Nintendo Switch Online membership sold separately.

Can I use my amiibo accessories?

Yes, you can use amiibo accessories in compatible games. The ability to scan amiibo figures and cards is built into the right Joy-Con and Nintendo Switch Pro Controller.

Can I watch movies or browse the web on Nintendo Switch (OLED model)?

The Nintendo Switch family of systems is first and foremost a dedicated video game platform. Hulu and YouTube are available on Nintendo eShop for Nintendo Switch.

How long will my Nintendo Switch (OLED model) system's battery last?

Approximately 4.5 – 9 hours.

The battery life will depend on the games you play. For instance, the battery will last approximately 5.5 hours for The Legend of Zelda: Breath of the Wild.

You can charge the Nintendo Switch console with the included AC adapter (even while you're playing) or by placing it in the dock.

How much storage does it come with, and can I upgrade?

Nintendo Switch (OLED model) comes with 64 GB of internal storage, a portion of which is reserved for use by the system. Users can easily expand storage space using microSDXC cards up to 2TB (sold separately).

Are all my Nintendo Switch games compatible with Nintendo Switch (OLED model)?

Nintendo Switch (OLED model) is compatible with the full library of Nintendo Switch games. However, the system will not cleanly fit within all the design parameters of the Nintendo Labo series. There may also be games where the game experience may differ due to the new capabilities of the console, such as the larger screen size.

Can I use the original Nintendo Switch dock with the Nintendo Switch (OLED model) console and vice versa?

Yes, you can use the docks interchangeably.

To use the original Nintendo Switch console with the wired LAN port, a system update may be needed.
The new Switch OLED model launches on October 8.
Thanks to Jake for the tip.
Leave a Reply