Swords & Soldiers II: Shawarmageddon expected on Switch in December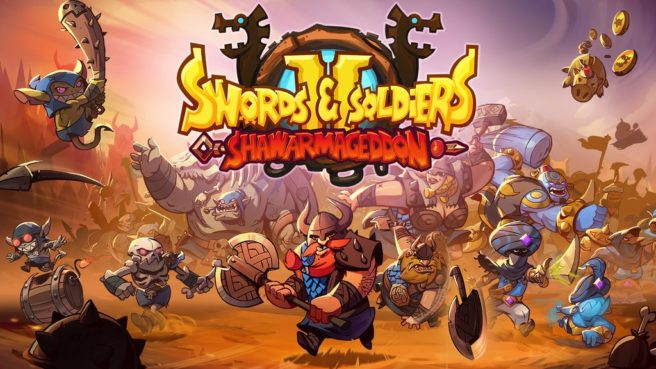 If all goes as planned, Swords & Soldiers II: Shawarmageddon will be on Switch before the year ends. Ronimo Games said today that the studio is targeting a December release on the eShop.
Here's an overview of the game:
Swords and Soldiers 2 is a strategic multiplayer lane defense game coming to PC and PlayStation 4 this November 6, with a Nintendo Switch release to follow! Vikings face off against Persian and Demon armies in ferocious battles across the globe. Push the enemy back and smash their base with a legion of distinct units, spells and structures. If your opponent's base still stands after all that, break the deadlock with one of the powerful heroes.

A 10 hour single player campaign sees you race against time to stop a tasty but terrifying apocalypse and is further bolstered by plenty of bonus challenges and mini-games. What begins as a simple mission to recover your favorite shawarma snack becomes a battle to prevent Shawarmageddon! Along the way you'll also collect units, spells and structures, which will allow you to build your own crazy mix by using the custom army feature. Build the army of your dreams – even use units from all three factions at once! Then, once your beard has grown and your swords sharpened, you can test your mettle either in local multiplayer or against other chieftains from around the world in online multiplayer!

It's official – Swords and Soldiers 2 will be released on Nintendo Switch! The Wii U version had a great reception of course, and after many requests from the community we just had to look into a Switch release. We did a few tests, and decided to go for it. After some hard work we even have split-screen multiplayer working… and it's awesome! We're now working out the final details, and expecting to release in December. More news will follow!
We have a new trailer for Swords & Soldiers II: Shawarmageddon below.
Source: Ronimo Games PR
Leave a Reply