Tamarindos Freaking Dinner, a first-person horror game, heading to Switch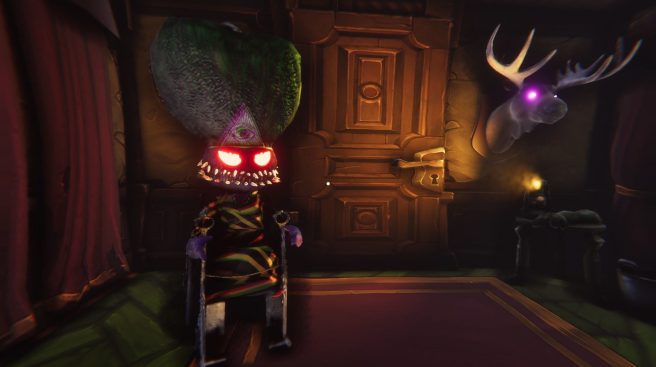 The first-person horror adventure game Tamarindos Freaking Dinner is in the works for Switch, publisher Neon Doctrine and developer Celery Emblem have announced.
The title is a spiritual successor to Baobabs Mausoleum, which released on Switch in 2018. It's the second game of the "Jacob Jazz's Treelogy".
Here's a bunch of information about the project:
Please let me introduce you Macario Macabro! the exorcist-mite pizza dude that have the bad luck to bring a order to Tagomago´s Mansion on MokingBird MilkyWay Heights 13, a haunted old creepy manor over the universe with the most horrorous dinner of all!

The stinky and cannibal Countess Erzeweth Wátory of Walpurgis (The Watracio´s Aunt!) host this infamous dinner, and you must bring the pizza, but wait… maybe the dinner is not the pizza… MAYBE IS YOU!!!!

Key Features

– Meet the seven inhabitants on this dark & stormy night! they have been invited to this horrible mansion by the countess!

– One hour and forty-five minutes left until dinner time, learn their behaviors and find a way to kill them before they eat you!

– The game has a time cycle system like Majoras Mask!

– Investigate and explore Tagomago´s Mansion with more than 50 rooms.

– Find useless objects and others a little more useful, discover the secrets of this old haunted house and its sinister history.

– Full of secrets and people´s skulls, there are maddening rooms that will make you lose your mind (literally).

– Better than Maniac Mansion and Luigi's!

– Help Macario with your wits and solve puzzles to end these infamous sinister fiends.

– There are numerous endings depending on the paths you take in this stinky old house full of cannibals. As if it were a "Choose Your Own Adventure" Goosebump´s book!

– Hilarious dialogues and stories in the purest style of the most famous graphic adventures! and for this occasion with canned laughter as if it were a 90´s TV Show. This is the story of Macario Macabro, but what no one ever knew is that he was already dead … when he died.
A trailer for Tamarindos Freaking Dinner can be found below.
A release window for Tamarindos Freaking Dinner has not yet been announced. When we have that information, we'll be sure to bring it to you.
Leave a Reply