'The Adventures of Dash' is yet another kickstarter game that might come to Wii U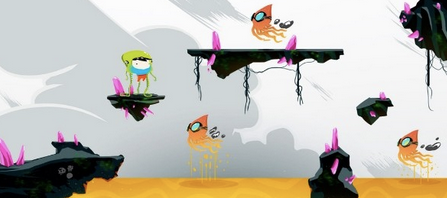 ---
When Nintendo said they were trying to be indie friendly (or rather, indie developers said Nintendo was trying to be indie friendly), I was honestly pretty skeptical given the Big N's past with digital download shops, but today yet another game developer has said they'll likely bring their next game to the Wii U if they reach their Kickstarter goal.
---
"We are already licensed Nintendo developers and have Wii U dev kits that we'll be using to get it up and running on Wii U. If we get funded we will try to bring it to as many platforms as possible with the funds we get and will use the profits from the game to bring it to consoles we couldn't afford prior. Long story short, yes, we hope to bring it to the Wii U as quickly as possible."
– Robotoki statement
---
Robotoki's game The Adventures of Dash is a really artistically interesting sidescrolling puzzle game that's coming to PC in the future, and I would be completely okay with seeing it hit Wii U as well! I absolutely love how many developers we're seeing say "Yea, we'll definitely try and bring our game to Wii U", and I can't help but feel a teeny tiny bit of extra joy that they're only mentioning Wii U as of now– no other systems. Nintendo might finally be doing download shops correctly!
You can give The Adventures of Dash your dollars by clicking here!
Leave a Reply