The Forgotten City comes to Switch today in cloud format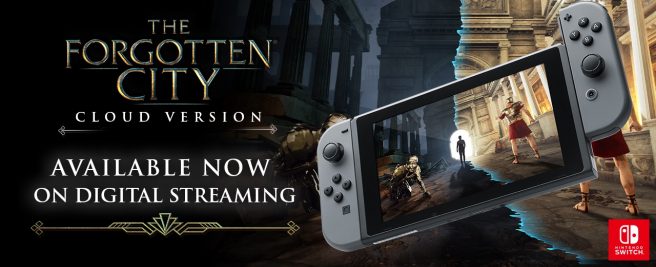 It's been announced that The Forgotten City is landing on Switch today in cloud format.
The Forgotten City is powered by the cloud service Ubitus. It works in a similar manner as other cloud titles on the system such as Control and Hitman 3. Rather than downloading the game to your system, everything runs through the internet.
The Forgotten City comes from publisher Dear Villagers and developer Modern Storyteller. The mystery adventure game takes place 2,000 years in the past during the final days of a cursed Roman city, where if one person sins, everyone dies. Players will look to unravel the mystery at the city's heart by exploiting its deadly time loop, questioning locals, exploring, and solving puzzles.
For those that missed out on our previous coverage, prepare for the launch of The Forgotten City – Cloud Version by checking out the trailer below:
We were originally expecting to see the game on Switch alongside other platforms in July. This is also the first time we're hearing about it being cloud-only.
The cloud version of The Forgotten City for Switch can be found through the eShop. You'll download an app for the title, but again, the actual game won't be running on your system.
Pricing is set at at $29.99 / €29.99 / £24.99. You'll be able to try out a demon beforehand to ensure that your internet connection is strong enough to play the whole game.
Source: Dear Villagers PR
Leave a Reply