The Jackbox Party Pack 8 update out now on Switch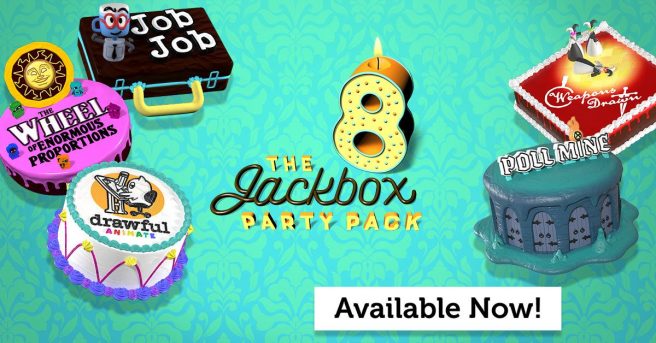 A new update has gone out for the Switch version of The Jackbox Party Pack 8. All of the games have seen improvements, additions, and fixes.
Below are the full patch notes for the new update for The Jackbox Party Pack 8:
Drawful: Animate

New Featured Content episodes
Aesthetic improvements to audio and art, as well as in Friend Mode
Menu screen updated to add clarity for the PLAY button
The Double Down can now be used once per round in two-round games
Miscellaneous controller and timer fixes

Consoles: entering text behaves normally and will not delete typing
Drawful Animate remains stable even if players submit just as the timer ends

The Wheel of Enormous Proportions

Improvement to timer length, to keep the gameplay moving even with a big audience
Players will now have an undo and a submit button when placing their slices on the Wheel
Accessibility for screen readers
5 new Slice types! What do they do…? You'll have to play and find out!

Audience: Points to Slice Count
Audience: Skull Swapper
Audience: Slice Enhancement
Power Slice: Rainbow
Power Slice: Replace Slice

Game screen updates during rapid fire/matching type questions to help keep the audience in the action
Audio effect and EasterEgg additions

Job Job

New animated goofs during the writing phase! One has an audio component with a ton of variations; some useful, some just plain funny. (You'll have to keep playing if you want to hear them all!)
The motivational poster feature for Audience now has even more photos to choose from!
Added feature to end the game and return to the menu if no one has voted 5 times in a row, or if no players answer their interview questions in a round (in case all the players are spirited away by aliens)

Switch: winner reveal at the end of game no longer creates lag
Job Job responds normally even if players submit just as the timer ends

The Poll Mine

Improvement to timers in Streamer Mode, to make sure large audiences have time to submit but the gameplay keeps moving
Improvements overall to both Streamer Mode and audience interactions
Change to timers in all modes to improve gameplay flow
The final remaining choice in all rounds will now automatically reveal
In the Final Round when both teams answer incorrectly, answer rank will not be revealed if 5th or lower, so teams can make a comeback even in the last round
New host voiceover and audio effects

Consoles: players will always have their turn picking a door in Round 3
Consoles: no longer possible to accidentally have a team of zero

Weapons Drawn

Points are awarded to the person first to place their vote to accuse a suspected murderer
New soundboard feature allows audience members to vote on sound effects combinations which will play in the game
New audience "Stab" button during the Murder Phases, stab away for fun (but non-murdery) results!
Improved credits screen will now show every player's stats
Animation and controller additions
Easter Egg additions (we won't tell!)

Consoles: adjustments to scoring (including ensuring audience can't get away with points murder)
Weapons Drawn responds normally even if players submit just as the timer ends
All Switch players can download the update for The Jackbox Party Pack 8 now.
Leave a Reply