The Outer Worlds – Peril on Gorgon DLC out on Switch next week, version 1.3 available today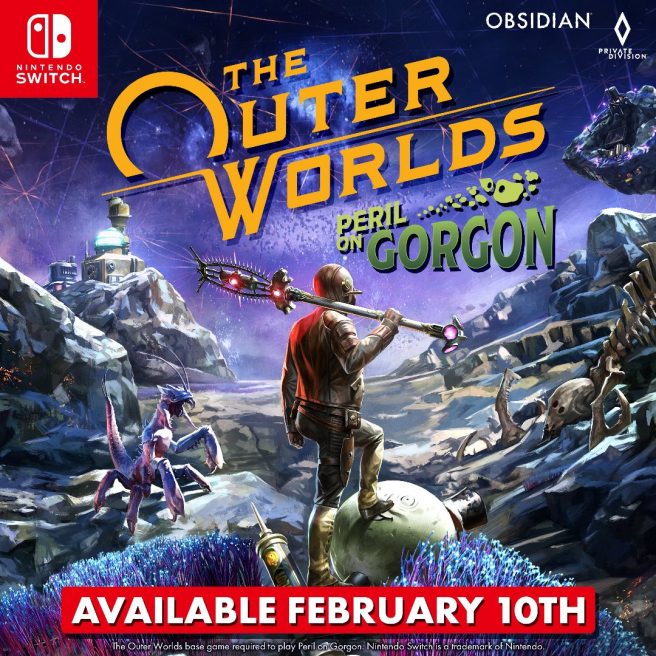 The Outer Worlds will be adding new Peril on Gorgon DLC for Switch owners next week, Private Division and Obsidian Entertainment announced today. It'll be out on February 10.
The Outer Worlds: Peril on Gorgon includes the following:
Intrigue and danger: Search an abandoned Spacer's Choice facility and encounter a cast of new characters as you uncover the mystery behind the sudden cancellation of the Gorgon Project.
New locations: Explore the treacherous canyons of the Gorgon Asteroid and encounter enemies that have been warped by science.
More science weapons: Discover three outlandish new science weapons, including the P.E.T. (Pest Extermination Tool), an exciting new melee weapon that draws in enemies for close-range attacks.
Expanded character customization and lore: An increased level cap, additional perks and flaws, wholly new armor sets, and several variants for existing gear. Plus, dig into the story of the Gorgon Asteroid with new Portable Phonograph audio logs that reveal the salacious secrets of a scientific experiment gone wrong.
In other news, Switch players can access a new 1.3 update for The Outer Worlds starting today. The official patch notes are as follows:
Features Added:

Players will now be able to trigger the DLC Peril on Gorgon after the content has been purchased and installed.

Bugs/Issues Addressed:

Adjust level GC strategy
Adjust texture streaming strategy
Leave a Reply