The return of the cloud bush in Mario Kart 7
It's now well-known that the clouds and bushes in Super Mario Bros. use the same sprite. The two are only separated by their color – of course, the clouds are white while the bushes are green. Other than that, they're entirely the same.
It seems as though the "cloud bush" has made a return in Mario Kart 7. As you can see in the image below, the clouds and bushes appear to be the same.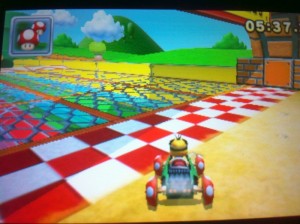 You can see this for yourself in the Piranha Plant Pipeway track.
Thanks to Jake for the tip!
Leave a Reply