This is the Zodiac Speaking launches for Switch in September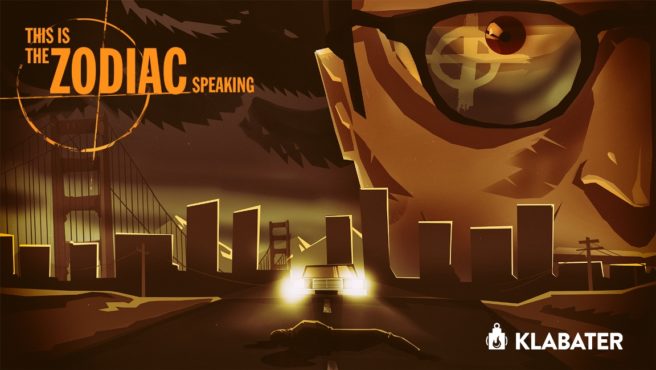 Publisher Klabater and developer Punch Punk Games have determined a release date for the story-driven mystery thriller This is the Zodiac Speaking. The title will launch via the eShop on September 24, the two companies announced today.
We have the following overview and trailer for This is the Zodiac Speaking:
This is the Zodiac Speaking is a fact-based single-player noir/psychological thriller based on the story of Zodiac, one of the most famous never-caught serial killers. It mixes vintage '70s California visuals and an original epic cinematic soundtrack with gameplay elements that include classic horror, investigation, stealth mechanics, and multiple endings to discover. It offers two unique gameplay modes, one that blends storytelling with stealth action gameplay and the other (Detective Mode) that emphasizes immersive investigative storytelling.

Play as San Francisco journalist Robert Hartnell. Robert receives a mysterious phone call from the serial killer Zodiac who greets him with the infamous 'hello, this is the Zodiac speaking'. This single event kicks off a series of events that will take Robert down a spiraling path toward confronting one of America's most notorious killers and…his own past.

The co-author of the script to This is the Zodiac Speaking is Lukasz Orbitowski, one of the best Polish writers, laureate of the ultra-prestigious Paszporty Polityki pop-cultural award and nominated for the Nike Award (most important literature prize). Orbitowski is one of Poland's most important horror authors. Together with Krzysztof Grudziński, Head of Punch Punk Games, they plunged into the dark and dangerous 70s to produce an immersive and mature story.

Music for the game was created by AGIM, a restless innovator and experimenter of the Polish electronic music scene. The official soundtrack from the game will be published in Europe (digital distribution and vinyl edition) by a legendary electronic music label, Pias Recordings. The amazing soundtrack prepared by A_GIM, an acclaimed DJ, instantly sparked the interest among the Pias team. Pias will work with Klabater, the publisher of the game.

Game Features:

– Discover the facts and evidence-based story of America's most famous never-caught serial killer.
– Experience the story from the perspective of a person who survived the attack of the serial killer, face your trauma, and run an investigation that will lead you to the truth about Zodiac.
– Unravel the details behind the murders, visit locations inspired by the original crime scenes, experience real psychological sessions that will help you to manage your traumas.
– Reveal 3 alternative endings, all based upon your investigation decisions.
– Enjoy the atmospheric film music and original retro-inspired art style.
– Travel to the vintage '70s and feel the old-school vibe while visiting faithfully depicted California's hallmark spots from the past.
A Kickstarter campaign is live for This is the Zodiac Speaking here. The game's release is already secured, but the extra funds would help "expand the community and scale".
Source: Klabater PR
Leave a Reply