Tiny Thor getting physical release on Switch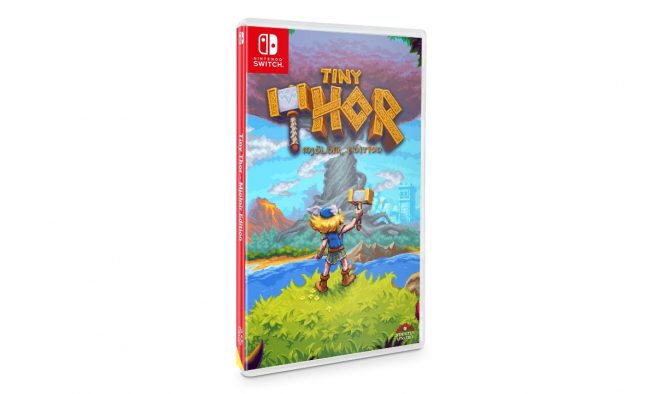 Tiny Thor just made its debut on Switch as a digital download, but you might be interested to hear that a physical version is in the works as well.
Strictly Limited Games announced that it's preparing a "Mjönir Edition". Each copy includes Tiny Thor on a cartridge, a download code for the awesome soundtrack, and the predecessor Hammer Kid. Only 4,000 copies will be made.
Here's some information about Tiny Thor:
Tiny Thor is a love letter to the challenging action platformers of the 16-bit console era, with contributions by two legends of their respective fields. Sporting magnificent pixel art by artist Henk Nieborg to feast your eyes upon and a soundtrack by duo Chris Hülsbeck and Fabian Del Priore, together create a nostalgic and immersive experience that will tug at the heartstrings of every retro-gaming enthusiast.

One area where Tiny Thor doesn't stray too much from its inspirations is the challenge it provides. The refined gameplay with its focus on using Mjölnir for attack as well as traversal helps to tackle the obstacles head on and rewards you with the ultimate satisfaction when succeeding. Starting as a straightforward jump'n'run, "Tiny Thor" evolves into a fully-fledged adventure as players unlock a plethora of abilities throughout the game. With over 30 beautifully designed levels spread across three unique realms, players will encounter thrilling boss battles that will challenge even the bravest of gods.

The version included here features additional gameplay refinements and fixes based on community feedback to make a great game even better.
Pre-orders for the physical version of Tiny Thor for Switch start on August 6, 2023. Strictly Limited Run Games will be taking reservations here.
Leave a Reply