ToeJam & Earl: Back in the Groove version 1.3.0 update detailed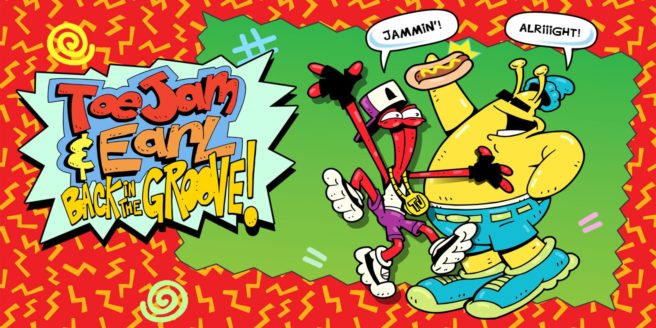 HumaNature Studios has provided details on the 1.3.0 update for ToeJam & Earl: Back in the Groove, which will be coming to Switch in the near future. It'll include improvements, European Spanish support, and more. The team is also promising to further optimize the Switch version.
Here's the full notice from HumaNature:
The first big update in V1.3.0 is that Steam users who backed the game on Kickstarter will be able to unlock Peabo Remix and Lamont Surprise! We are working on adding these to consoles at a later date – these are fun little cosmetic additions we hope our backers enjoy! Check your emails if you bought those tiers or higher, as you'll be getting a code to unlock the DLC through Steam.

Looking at our Canny, which you can find at: https://tjande.canny.io , we saw the most requested change was to improve the way Tomatoes and Slingshot are firing. Well, we did that! We think the new system works much better, but we want your feedback — Once 1.3.0 rolls out be sure to let us know what you think of the new controls so we can get this absolutely jammin'!

We're really excited to announce a brand new language option – European Spanish. Yep!

In our recent Switch update you may have noticed a few optimizations in the way the game loads and now handles, we hope you've been enjoying these changes but rest assured we're not done yet. We're going to continue to work on framerate on Switch until it gets to a really good place… perhaps even good enough for 4 player local in the future??

A big bug we fixed was that console local co-op game maps should no longer be broken with 'Level 0' stuck on top and no tiles being revealed.

That's all for now! Huh.. there's more? Oh yeah… are you ready… to speed up… a certain character's… dialogue… on a hidden level? Well without spoiling it for those of you who haven't found it, we're going to be decreasing the speech bubbles for this character so the end game won't go into super overtime.

We got a bunch of smaller things coming in, updates to the credits with some names we missed, fixes to the manual (if you see any more typos let us know, PLEASE!), fixes to the way achievements and the game title are displayed on console, updating the achievement text in German for PS4 and Xbox One, not being able to start a game on Toddler/Easy Farty on the PC version, a nerf to the secret Golden "Funky" Mailbox, disable presents being opened in the Hot Tub which was causing some issues, lowered a few sounds that were too loud, and reduced the rumble on the Switch version.

*phew* Well that should be all for the upcoming patch.

Be sure to let us know what you think about it once it rolls out! After that, we'll begin working on v1.4!
Leave a Reply