Tower defense brawler Bish Bash Bots heading to Switch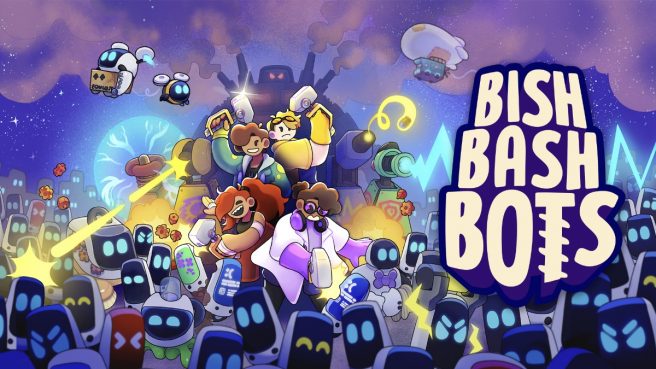 Publisher Firestoke and developer Catastrophic Overload today unveiled Bish Bash Bots, which is in development for Switch. The game launches later in 2023.
Bish Bash Bots is a co-op party title that features a mix of tower defense and brawler gameplay. For more information, check out the following overview:
Supporting 1 – 4 players locally or online, Bish Bash Bots is a co-op party game that merges tower defense with a fun and frantic brawler. In a cartoony take on a future where machines have stolen technology from humans and are turning it against them, a team of unlikely heroes set out on a grand adventure to reset the rogue robots and save the world. With 8 vibrant and colourful biomes across 32 levels, players will have to contend with a variety of hazards such as turrets overheating in the Volcano biome to the overgrown Jungle where mutant plants may even snatch up players.

Bish Bash Bots throws its own unique twist on the traditional tower defense genre by providing more variety in gameplay. New mechanics are constantly introduced as the game progresses and waiting for actions to play out will be a thing of the past as you are always on the move, ready to defend the EMP! Get ready to build upgradable turrets, unlock gadgets and bash bots with giant hammers. An array of turrets and gadgets will allow players to mix up their strategy as they come face to face with unique robots that can be pushed, shoved and even bashed down holes!
James Letherby, co-founder of Catastrophic Overload, said of the new game: "Bish Bash Bots is a big step up for us as a studio – delving into the world of 3D, online AND releasing on PlayStation, Xbox, Switch as well as PC! Phew! We are super happy to be able to bring you something new and hopefully exciting. As lovers of co-op we can't wait for you to bash some bots with your friends."
Firestoke CEO Paul Farley added: "Bish Bash Bots is shaping up for a late summer 2023 launch. It was one of the first games we signed when founding Firestoke and the partnership with the talented team at Catastrophic Overload has been a lot of fun. Not only are they a super creative team, they also have a keen understanding of what players want. They've been able to channel their passion for the game into something that is at the same time both familiar and yet unique in the tower defense genre. Their sense of fun and innovation definitely shines through with all that Bish Bash Bots has to offer!"
We have a trailer for the game below.
Leave a Reply