Toy Soldiers 2: Finest Hour announced for Switch alongside HD collection, coming Spring and Summer 2020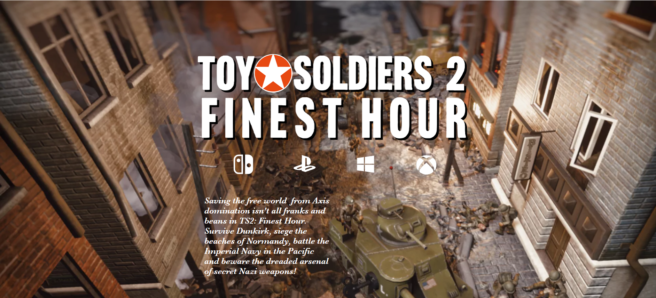 A promo website for a Toy Soldiers collection has gone live, featuring the games of: Toy Soldiers 2: Finest Hour, Toy Soldiers: Cold War HD and Toy Soldiers HD (separate games but the same website). All three are confirmed to be coming to Switch.
On the website the release dates listed are saying that Toy Soldiers 2: Finest Hour is coming in Autumn 2020, but it is unsure if this is for the PS4 and Xbox One edition or the Switch as well.
Toy Soliders HD is specifically mentioned to be a Switch version coming in Spring 2020 with these improvements included:
New content

New options

New difficulty

HD graphics and texture overhaul

Improved camera and controls

DLC included in the campaign flow
Finally, Toy Soldiers: Cold War HD is also a Switch version of the game, mentioned to be coming this Summer. Two trailers, one for Cold War and the first game (not the HD version), have been included below and more information can be found on the official teaser site here.
Leave a Reply