Treachery in Beatdown City launches on Switch this month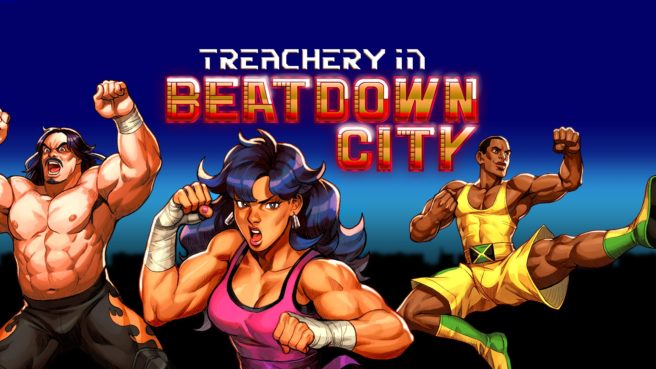 Treachery in Beatdown City, a new take on the beat 'em up genre, is a game that's been in development for quite a few years. Nuchallenger has finally wrapped up development, and we now have a release date. Treachery in Beatdown City will arrive on March 31, according to an eShop listing.
We have the following overview and trailer for the game:
Treachery is afoot in Beatdown City! The US President, Blake Orama, has been kidnapped by the nefarious Ninja Dragon Terrorists! Fight your way through dozens of ridiculous enemies using an all-new battle system that lets you fight how you want!

Features:

– Innovative hybrid real time and turn based fighting system reinvents the beat 'em up genre.
– Learn lots of moves, from giant suplexes and stunning elbows to brutal flying knees and spinning trip kicks.
– Use those moves to build custom Strike-A-Grapple-Ombos!
– Fight dozens of unique enemies broken into multiple class types ensuring every fight is different!
– Explore East Fulton on a snappy top down map.
– Timeless chiptune score by the amazing Inverse Phase.
Treachery in Beatdown City will cost $19.99 on the Switch eShop.
Source: Switch eShop
Leave a Reply