Two Tribes 2001-2019 Mega Pack announced for Switch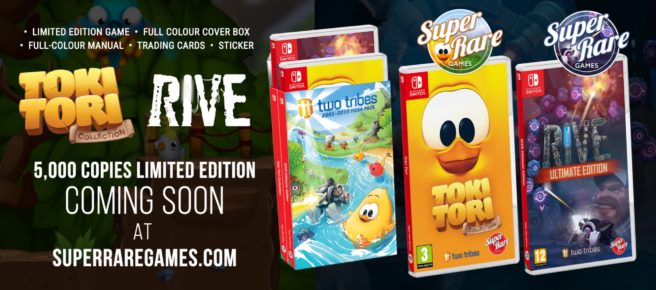 Two Tribes is teaming up with Super Rare Games to celebrate 18 years of the company's history. Announced today is the Two Tribes 2001-2019 Mega Pack, including a wealth of information on the developer's games and hidden extras.
Here's what's included:
The Two Tribes 2001-2019 Mega Pack comes in a custom-created box containing the Toki Tori Collection and RIVE: Ultimate Edition limited editions, as well as a fact sheet on Two Tribes' history. The contents are separated onto two cartridges, each containing 3 games.

Cart 1 – Toki Tori Collection : Toki Tori 1, Toki Tori 2+, Toki Tori Game Boy Colour Version

Cart 2 – RIVE: Ultimate Edition : RIVE, Swap This!, A demo for the unreleased Three Tribes
Super Rare Games will produce 3,000 copies of the Two Tribes 2001-2019 Mega Pack and 2,000 single copies of the other two carts which can be bought individually. They'll go on sale starting August 15 at 10 AM PT / 1 PM ET / 6 PM in the UK / 7 PM in Europe here.
Source: Super Rare Games PR
Leave a Reply