Ty the Tasmanian Tiger 2: Bush Rescue HD announced for Switch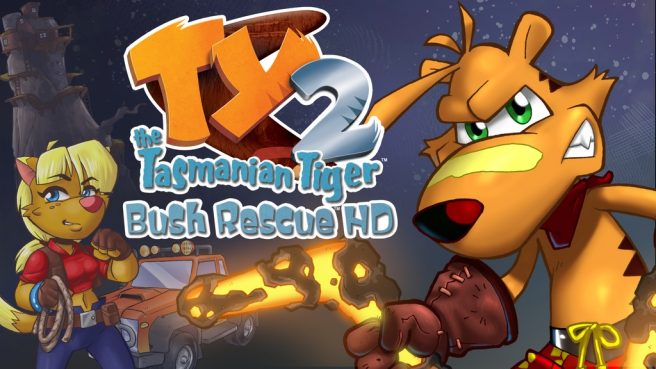 Last year, Krome Studios brought the Ty the Tasmanian Tiger HD to Switch. It was an enhanced version of the 3D platformer originally released on GameCube. The studio is now following up on that by putting the sequel on Switch as well.
Ty the Tasmanian Tiger 2: Bush Rescue HD is currently in the works, and Krome Studios has opened a Kickstarter so that fans can help contribute to development. Although work is already underway, the team hopes to add elements like support for motion controls on Switch, enhanced visuals, Hardcore Mode, and more.
Here's some additional information and a trailer:
TY the Tasmanian Tiger 2: Bush Rescue is the sequel to Krome Studios' charming Australiana-themed videogame. First released for the PlayStation 2, Nintendo GameCube, and the Xbox in 2004, it features more rangs, more vehicles, more mechs, and more EVERYTHING… in an open world Aussie Adventure.

Rang, bite, smash and glide your way around the Australian Outback and stop the evil machinations of the diabolical Boss Cass and help the good folk of the little country town of Burramudgee.

Compared to TY1, TY2 is big. REALLY big. You can join the Bush Rescue team and help us make TY2HD better; drag it kicking and screaming into the HD era. Your assistance will help us with all the QA testing we'll need, translation work, bringing the game to all three consoles, and yes, it helps us make all these cool rewards for you collectors and fans, plus awesome stretch goals of new things we'd like to add to the game.

What Krome Will Spend The Kickstarter Funds On To Remaster TY2HD:

– Support for Nintendo's Joy-Con controller for motion controls for throwing the rangs, gliding, precision boomeranging and driving!
– Add dynamic shadows, water reflection, adaptive brightness, enhanced draw distances and enhanced textures and particle effects in handheld mode for all versions; with improved loading.
– For Switch in docked mode, we'll also be looking at adding color correction and bloom and anti-aliasing.
– New Gamemode called "Hardcore Mode"
– Heaps of QA testing and problem fixing
– Outside help to do specialized submission testing for meeting specific Nintendo platform requirements (aka lot check, TRCs, and TCRs)
– New TY character and Fourbie skins/looks (a stretch goal feature)
– A new Burramudgee resident joins Bush Rescue, YOU! (a backer reward)
– Updating the credits to include this campaign's Backers (requires backing us in this Kickstarter campaign, and answering the post-Kickstarter survey)
– Compatible with both the Nintendo Switch and Nintendo Switch Lite* (*requires extra controllers to be able to use the TY motion controls. i.e. throwing and gliding.)
You can contribute to Ty the Tasmanian Tiger 2: Bush Rescue HD on Kickstarter here, which has a funding goal of $75,000. Krome Studios hopes to have it ready by the end of Q2 2021.
Leave a Reply