Ty the Tasmanian Tiger 2: Bush Rescue HD update out now on Switch (version 1.0.1), patch notes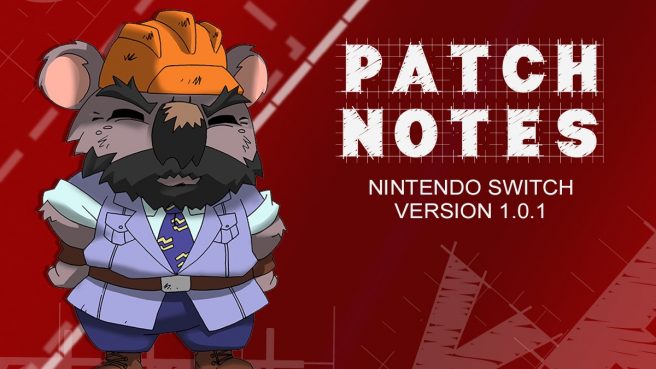 Ty the Tasmanian Tiger 2: Bush Rescue HD has received a fairly notable update. On Switch, the game is at version 1.0.1.
Today's update includes improved dock mode performance, loading speed improvements, and more. We've posted the full patch notes below.
FEATURES/IMPROVEMENTS

You can now ride on cars in town again!
Added mission marker for Archie singing mission.
Improved docked mode performance.
Stereo sounds will now play correctly (they were previously playing in 3D causing audio phasing).
Loading speed improvements have been made, when loading audio data.
Improvement to music playback causing FPS hitches.
Fixed issue where the credits would not proceed to the scrolling credits at the end of the hills hoist credits unless you pressed a button to skip the hills hoist.
Backer credits have been updated.

CRASH FIXES

Fix for occasional crash on exit issue.
Misc memory leak fixes that eventually would lead to a crash.
Fixed memory overwrite issue that could cause a crash.
Fix for crash if an enemy was mid-attack sequence on a hero/friend when the hero/friend is in a chunk that is initialising or unloading.
Fix for bad memory access in vehicle physics.
Fixed memory overwrite in Bunyips that could cause a crash.

MISC BUG FIXES

Fix for small "fall" glitch when waiting for a new area to load.
Added correct audio to Krome logo video .
Fix bug where the user could briefly make the control text box appear on screen when it should have been invisible, by touching/clicking the button area on it.
Prevent TY sometimes jumping/biting/whatever when exiting the race results.
Rendering fixes for parts of town popping off when in the tunnel between Bush Rescue HQ and town proper.
Fix carts floating off into space if the race is restarted while on a grind rail.
Fixed some UI continuing to draw when in photo mode.
Improved shockwave code.
Fixed minimap rotation causing parts of the map to exceed the bounds (due to mask not rotating with it).
Fix for bug of 2 x TYs in some cutscenes.
Fixes for reflection system using incorrect level's reflections.
Fixed underwater rendering issue.
Fixed TY sometimes being unable to move after the Stone Beetle Temple Challenge minigame.
Fix the informative text on selfie / TY's view for camerarang not resetting properly when exiting/re-entering selfie mode.
Fix dark clouds creating artefacts if you jumped from the top of the manor in Burramudgee graveyard.
Fixes for the bunyip mortar instructions for non-English to match to English.
Fixed Duke's eyes turning red.
Merged hearty beach water to improve reflections.
Improved reflections in Helicopter minigames.

OTHER CHANGES

PEGI Rating has changed to 7+.
Leave a Reply