Ty the Tasmanian Tiger Switch remaster reaches Kickstarter funding goal, officially moving forward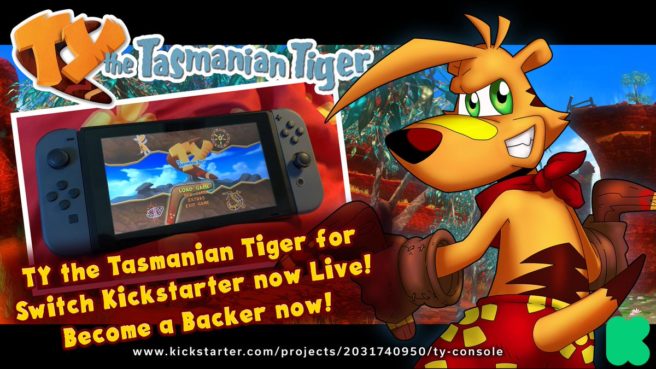 Earlier this week, Krome Studios opened a Kickstarter for a Switch remaster of the GameCube title Ty the Tasmanian Tiger. The $50,000 goal has already been reached with four weeks remaining in the campaign. That's good news for fans, as the project is officially moving forward.
Ty the Tasmanian Tiger for Switch will feature updated visuals, optional motion controls, a new "Hardcore Mode", an improved camera, and more. Kickstarter stretch goals are planned, including new Ty skins at $75,000.
Here's some information about Ty the Tasmanian Tiger:
You are TY, the last of the Tasmanian Tigers. Raised by a family of Bilbies, you can only vaguely recall your real parents. You've always thought that all the other Tassie Tigers died a long time ago.

But then the Bunyip Elder found you, and told you that your family is alive, but trapped in the Dreaming. Now hold your horses… don't get upset… you see they're not stuck there forever, if you're up for a bit of an adventure!

You see, deep in the Outback, there's this kind of glowy portal thing that is a doorway to the Dreaming. And around that portal there are some carvings in the rock, where five ancient mystical Talismans used to lay. Now, all you have to do is find the five Talismans, put them in the carvings, and the portal to Dreaming will open!

Now, before you go off like a frog in a sock, there's just this one SMALL problem. You see there's this evil cassowary – Boss Cass – who's also after the Talismans. Yes. THAT Boss Cass. The one that trapped your family in the Dreaming in the first place, and told the school board to remove all the meat pies from the tuck shops. And if you didn't think that made him enough of a megalomaniac, he's ALSO trapped a whole bunch of your Bilby mates in cages all across the outback… something about overdue library books… Anyways, if you want to open the portal, you'll have to beat him and his henchmen to the Talismans!

Don't worry though, you won't be alone! You'll have a bunch of friends to help you along the way, including me – your old mate, Maurie. Now let's get down to brass tacks, find those Talismans, and rescue your family!

Key Features

– Join TY on a RIPPER on an adventure to free his family from the Dreaming, through 17 levels of the Australian Outback, in their old-school 3D platforming glory!
– Wield 13 different hi-tech boomerangs including the Frostyrang, Flamerang, and the powerful Doomerang.
– Interact with a cast of over 50 different Australian mates and unruly foes.
– New Hardcore Mode removes all of the respawn points, giving you just one life to complete the game!
– TY on Switch will support Switch Lite (requires extra controllers to be able to use the TY motion controls such as throwing rangs, gliding and aiming in first person view).
– Full language support (voice and subtitles) including Strayan (English), French, German, Italian, and Spanish.
And a trailer:
You can support Ty the Tasmanian Tiger on Kickstarter here.
Leave a Reply