UK software sales – January 10, 2021 – Switch game sales up over 123% compared with the same week in 2020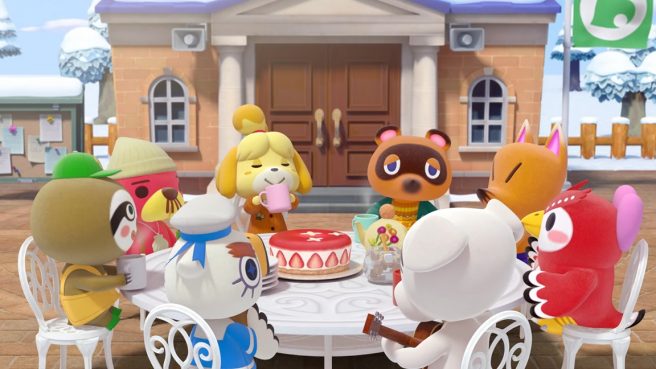 Update (1/11): Post updated with the top 40.
---
Original (1/10): This week's UK software sales are in, with Switch having a busy past seven days. GamesIndustry reports that the console's games dominated the boxed charts thanks to an increase of 123 percent compared with the same week in 2020.
Although Animal Crossing: New Horizons sales dropped 47 percent, it nonetheless took the top spot. Mario Kart 8 Deluxe was next despite a 43 percent drop. Just Dance 2021 is third even with a 24 percent decrease, and it's worth noting that nearly 90 of the game's physical sales have been on Switch. Note that all game sales tend to drop during the first week of the year.
Ring Fit Adventure rose from #18 to #6 with a 24 percent sales increase. Minecraft (down 35 percent) and New Super Mario Bros. U Deluxe (down 32 percent) are in the top ten as well, though Super Mario 3D All-Stars (down 42 percent) slipped just a bit to #11. GamesIndustry points out that 15 Switch exclusives are in the top 40.
Here's a look at the best-selling games in the UK over the past week:
| LW | TW | Title | Age Rating | Label |
| --- | --- | --- | --- | --- |
| 1 | 1 | ANIMAL CROSSING: NEW HORIZONS | PEGI 3+ | NINTENDO |
| 3 | 2 | MARIO KART 8 DELUXE | PEGI 3+ | NINTENDO |
| 5 | 3 | JUST DANCE 2021 | PEGI 3+ | UBISOFT |
| 2 | 4 | FIFA 21 | PEGI 3+ | EA SPORTS |
| 4 | 5 | ASSASSIN'S CREED VALHALLA | PEGI 18+ | UBISOFT |
| 18 | 6 | RING FIT ADVENTURE | PEGI 7+ | NINTENDO |
| 7 | 7 | MINECRAFT | PEGI 7+ | NINTENDO |
| 9 | 8 | GRAND THEFT AUTO V | PEGI 18+ | ROCKSTAR |
| 10 | 9 | NEW SUPER MARIO BROS. U DELUXE | PEGI 3+ | NINTENDO |
| 6 | 10 | CALL OF DUTY: BLACK OPS COLD WAR | PEGI 18+ | ACTIVISION |
| 8 | 11 | SUPER MARIO 3D ALL-STARS | PEGI 7+ | NINTENDO |
| 13 | 12 | 51 WORLDWIDE GAMES | PEGI 12+ | NINTENDO |
| 11 | 13 | MARVEL'S SPIDER-MAN: MILES MORALES | PEGI 16+ | SONY COMPUTER ENT. |
| 12 | 14 | IMMORTALS FENYX RISING | PEGI 12+ | UBISOFT |
| 17 | 15 | SUPER MARIO ODYSSEY | PEGI 7+ | NINTENDO |
| 16 | 16 | THE LEGEND OF ZELDA: BREATH OF THE WILD | PEGI 12+ | NINTENDO |
| 19 | 17 | POKEMON SWORD | PEGI 7+ | NINTENDO |
| 26 | 18 | PGA TOUR 2K21 | PEGI 3+ | 2K |
| 14 | 19 | WATCH DOGS: LEGION | PEGI 18+ | UBISOFT |
| 15 | 20 | CYBERPUNK 2077 | PEGI 18+ | BANDAI NAMCO ENTERTAINMENT |
| 30 | 21 | LEGO HARRY POTTER COLLECTION | PEGI 7+ | WARNER BROS. INTERACTIVE |
| 22 | 22 | MARIO & SONIC AT THE OLYMPIC GAMES TOKYO 2020 | PEGI 3+ | NINTENDO |
| 21 | 23 | LUIGI'S MANSION 3 | PEGI 7+ | NINTENDO |
| 31 | 24 | RED DEAD REDEMPTION 2 | PEGI 18+ | ROCKSTAR |
| 20 | 25 | SUPER MARIO PARTY | PEGI 3+ | NINTENDO |
| 29 | 26 | THE LAST OF US PART II | PEGI 18+ | SONY COMPUTER ENT. |
| 28 | 27 | SUPER SMASH BROS. ULTIMATE | PEGI 12+ | NINTENDO |
| 23 | 28 | MINECRAFT DUNGEONS | PEGI 7+ | MOJANG |
| 35 | 29 | CRASH BANDICOOT N.SANE TRILOGY | PEGI 7+ | ACTIVISION |
| 34 | 30 | HYRULE WARRIORS: AGE OF CALAMITY | PEGI 12+ | NINTENDO |
| | 31 | SONIC MANIA PLUS | PEGI 3+ | SEGA |
| 24 | 32 | MARVEL'S AVENGERS | PEGI 16+ | SQUARE ENIX |
| 40 | 33 | LEGO JURASSIC WORLD | PEGI 7+ | WARNER BROS. INTERACTIVE |
| 37 | 34 | MINECRAFT: BEDROCK EDITION | PEGI 7+ | SONY COMPUTER ENT. |
| | 35 | FOOTBALL MANAGER 2021 | PEGI 3+ | SEGA |
| | 36 | LEGO DC SUPER-VILLAINS | PEGI 7+ | WARNER BROS. INTERACTIVE |
| | 37 | TEAM SONIC RACING | PEGI 3+ | SEGA |
| 25 | 38 | STAR WARS JEDI: FALLEN ORDER | PEGI 16+ | EA GAMES |
| | 39 | CRASH TEAM RACING NITRO-FUELED | PEGI 3+ | ACTIVISION |
| 27 | 40 | STAR WARS: SQUADRONS | PEGI 12+ | EA GAMES |
Leave a Reply