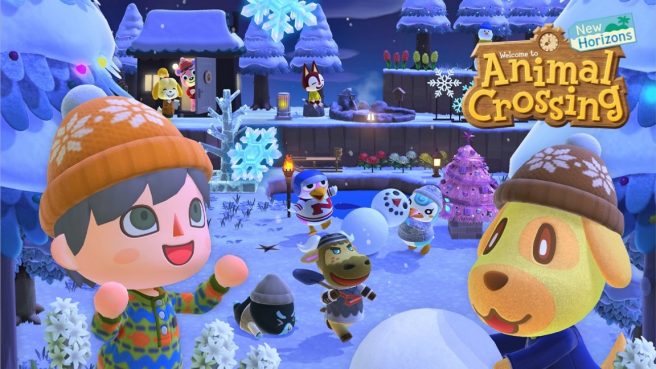 Update (1/25): Post updated with the top 40.
---
Original (1/24): This week's UK software sales are in, and Animal Crossing: New Horizons just missed out on taking the top spot once again.
Animal Crossing was only surpassed by Hitman 3, which was a new release. Only 800 units separated the two titles. Animal Crossing's sales dipped slightly by 8 percent week-on-week.
Ring Fit Adventure was one Nintendo game that's on the rise. The game placed at #7 with a 47 percent increase in sales.
The best-selling games in the UK over the past week are as follows:
| LW | TW | Title | Age Rating | Label |
| --- | --- | --- | --- | --- |
| | 1 | HITMAN III | PEGI 18+ | SQUARE ENIX |
| 1 | 2 | ANIMAL CROSSING: NEW HORIZONS | PEGI 3+ | NINTENDO |
| 2 | 3 | MARIO KART 8 DELUXE | PEGI 3+ | NINTENDO |
| 12 | 4 | MARVEL'S SPIDER-MAN: MILES MORALES | PEGI 16+ | SONY COMPUTER ENT. |
| 7 | 5 | CALL OF DUTY: BLACK OPS COLD WAR | PEGI 18+ | ACTIVISION |
| 4 | 6 | GRAND THEFT AUTO V | PEGI 18+ | ROCKSTAR |
| 10 | 7 | RING FIT ADVENTURE | PEGI 7+ | NINTENDO |
| 3 | 8 | JUST DANCE 2021 | PEGI 3+ | UBISOFT |
| 5 | 9 | MINECRAFT | PEGI 7+ | NINTENDO |
| 6 | 10 | FIFA 21 | PEGI 3+ | EA SPORTS |
| 8 | 11 | SUPER MARIO 3D ALL-STARS | PEGI 7+ | NINTENDO |
| 11 | 12 | ASSASSIN'S CREED VALHALLA | PEGI 18+ | UBISOFT |
| 13 | 13 | SUPER MARIO ODYSSEY | PEGI 7+ | NINTENDO |
| 9 | 14 | NEW SUPER MARIO BROS. U DELUXE | PEGI 3+ | NINTENDO |
| 25 | 15 | POKEMON SWORD | PEGI 7+ | NINTENDO |
| 14 | 16 | 51 WORLDWIDE GAMES | PEGI 12+ | NINTENDO |
| 28 | 17 | CRASH BANDICOOT N.SANE TRILOGY | PEGI 7+ | ACTIVISION |
| | 18 | CARNIVAL GAMES | PEGI 3+ | 2K |
| 16 | 19 | LEGO HARRY POTTER COLLECTION | PEGI 7+ | WARNER BROS. INTERACTIVE |
| 15 | 20 | IMMORTALS FENYX RISING | PEGI 12+ | UBISOFT |
| 18 | 21 | RED DEAD REDEMPTION 2 | PEGI 18+ | ROCKSTAR |
| 22 | 22 | CYBERPUNK 2077 | PEGI 18+ | BANDAI NAMCO ENTERTAINMENT |
| 17 | 23 | SUPER MARIO PARTY | PEGI 3+ | NINTENDO |
| 20 | 24 | MINECRAFT DUNGEONS | PEGI 7+ | MOJANG |
| 21 | 25 | THE LEGEND OF ZELDA: BREATH OF THE WILD | PEGI 12+ | NINTENDO |
| 19 | 26 | LUIGI'S MANSION 3 | PEGI 7+ | NINTENDO |
| | 27 | DEMON'S SOULS | PEGI 18+ | SONY COMPUTER ENT. |
| 23 | 28 | SUPER SMASH BROS. ULTIMATE | PEGI 12+ | NINTENDO |
| 26 | 29 | NBA 2K21 | PEGI 3+ | 2K |
| | 30 | MARVEL'S AVENGERS | PEGI 16+ | SQUARE ENIX |
| 24 | 31 | MARIO & SONIC AT THE OLYMPIC GAMES TOKYO 2020 | PEGI 3+ | NINTENDO |
| 34 | 32 | MINECRAFT: BEDROCK EDITION | PEGI 7+ | SONY COMPUTER ENT. |
| 31 | 33 | SONIC MANIA PLUS | PEGI 3+ | SEGA |
| 30 | 34 | WATCH DOGS: LEGION | PEGI 18+ | UBISOFT |
| | 35 | THE PATHLESS | PEGI 12+ | ANNAPURNA INTERACTIVE |
| | 36 | LEGO MARVEL SUPER HEROES 2 | PEGI 7+ | WARNER BROS. INTERACTIVE |
| 36 | 37 | SPYRO REIGNITED TRILOGY | PEGI 7+ | ACTIVISION |
| | 38 | PIKMIN 3 DELUXE | PEGI 3+ | NINTENDO |
| | 39 | LEGO THE INCREDIBLES | PEGI 7+ | WARNER BROS. INTERACTIVE |
| 38 | 40 | CRASH TEAM RACING NITRO-FUELED | PEGI 3+ | ACTIVISION |
Leave a Reply