VA-11 HALL-A seems to be coming to Switch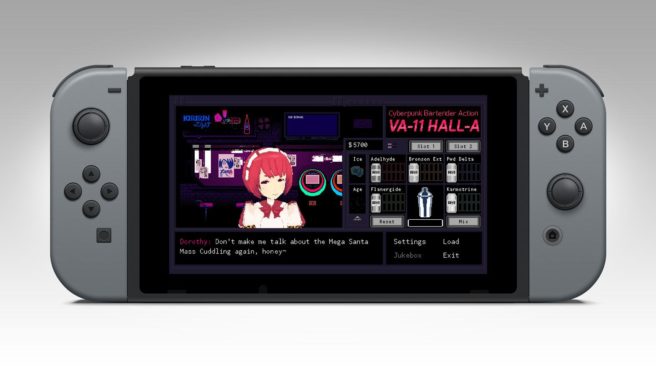 We originally thought that VA-11 HALL-A would be coming to Switch around a year ago. That didn't happen in the end, though it looks like a port is now going to happen after all.
Kiririn51, artist and designer at Sukeban Games, has indicated that plans for a Switch version are in motion. The following details were shared:
Port will likely be handled by Sukeban Games' PC Publisher.
Previous reports of NoA turning VA-11 HALL-A away due to 'Mature Content' are false.
Currently targeting a Chsitmas release.
Would be a 1:1 Port, no pixel/interlacing issues.
There's been lots of demand for the game on Switch since the direct.
The next game from Sukeban will run on Unity and use 3D models. A Switch port is in the plans, depending on who publishes it.*
Current release plan is e-Shop internationally, and a complete physical edition in Japan for importers. (English/Japanese)
Kiririn feels very positive about the sales outlook for VA-11 HALL-A on Switch.
Kiririn has to thank Toby for putting pressure on Nintendo to sign an agreement with GM.
NoA had already approached Sukeban Games to put VA-11 HALL-A on Switch. (Though primary drive for GM support was admittedly Undertale)
One possible name for the port is 'Mandatory Karmotrine' based off the Psycho-Pass game titled 'Mandatory Happiness' and the sometimes optional alcoholic ingredient used in VA-11 HALL-A.
Final paperwork still needs be completed before the port can be officially announced, but things are looking solid and preliminary artwork is in progress.
Here's more on VA-11 HALL-A:
"VA-11 HALL-A: Cyberpunk Bartender Action is a booze em' up about waifus, technology, and post-dystopia life.

In this world, corporations reign supreme, all human life is infected with nanomachines designed to oppress them, and the terrifying White Knights ensure that everyone obeys the laws.

But, this is not about those people.

You are a bartender at VA-11 HALL-A, affectionately nicknamed "Valhalla." Although it is just a small bar downtown, it attracts the most fascinating people this side of dystopia. Keep your clients lubricated and you will be made privy to the most interesting stories."
Leave a Reply