Videokid heading to Switch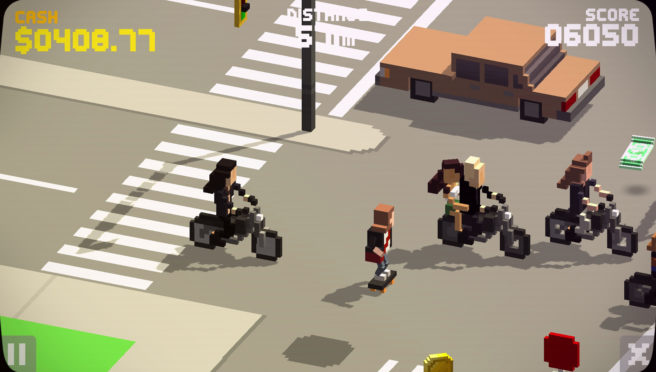 Next week, the indie event Tokyo Sandbox will be held in Japan. A new game that we didn't know was planned for Switch previously will be at the event. Videokid, developed by PixelTrip Studios, is now confirmed for the console.
Videokid is an arcade style skate game that's set in a 1980s neighborhood. You'll be performing skate moves through hazardous streets, avoid being busted by the cops, and pulling off combos.
Videokid currently does not have a release date on Switch. We have further information and a trailer below.
Test your skills to the max with this fun & challenging arcade style skate game set in a retro 1980s neighbourhood filled with danger…

Skate, hitch and grind your way through hazardous streets; dodging 80s bikes, cars, trucks, trains & more. The Videokid is jam packed with 80s nostalgia. Relive classic moments of all your favourite movie, tv and cartoon characters and remember… the further you get the more epic the references become!

The goal is simple: Avoid being busted by the cops, pull off sick tricks and complete crazy combos to earn bonuses; all whilst trying to stay alive just long enough to deliver your pirate video round and get to your girl in time! From retro arcade style sound effects, to the incredible 8bit inspired soundtrack (written by DJ Savant) the Videokid pays pure homage to your favourite games of the golden era.

FEATURES:
– Take on 'The Videokid challenge' & be amongst the top 25 hall of fame
– Unlock and play as some of your favourite 80s inspired characters
– Wreak havoc on the wrong side of the law for maximum score
– Pull off sick skate tricks & crazy combos
– Laugh at endless ways to bail, slam and fail
– Earn cash to spend on radical upgrades & powerups in the skateshop
– Experience the nail-biting tension… the longer you live the harder it gets
– See how many classic 80s characters & vehicles you can spot
– Relive your nostalgic childhood where all things were awesome
Thanks to m_t for the tip.
Leave a Reply