Warhammer 40,000: Mechanicus announced for Switch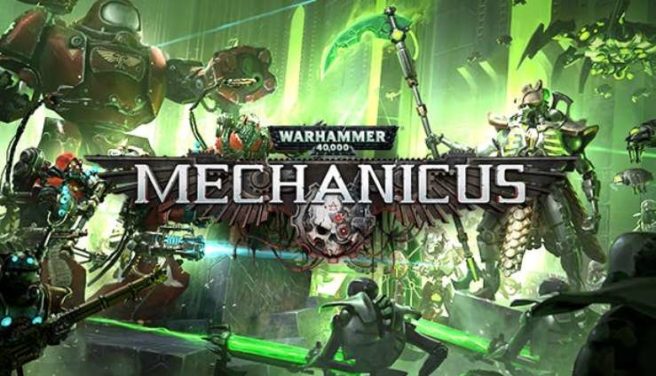 Publisher Kasedo Games and developer Bulwark Studios today announced that Warhammer 40,000: Mechanicus is coming to consoles. As part of that, the turn-based strategy title will launch on Switch in Q1 2020.
Here's an overview of Warhammer 40,000: Mechanicus, along with a trailer:
Take control of one of the most technologically advanced armies in the Imperium – The Adeptus Mechanicus. As Magos Dominus Faustinius, you'll lead the expedition on the newly rediscovered Necron planet of Silva Tenebris. Customize your team, manage resources, discover long-forgotten tech, and control your Tech-Priests' every move.

Your every decision will shape the missions ahead and ultimately decide the fate of the troops under your command in over 50 hand-crafted missions. Choose your path carefully – the Imperium depends on it.

Augment
Flesh is weak! Upgrade your Tech-Priests with weapons, support items, Servo-Skulls and other mechanical augments as you assemble your cohort. Customize your team's disciplines, choosing from multiple character classes to create a squad for every playstyle.

Unique Tactical Combat
Engage in immersively strategic combat that will test your mettle under the extreme pressure of the xenos ambush. Access your most powerful weapons and abilities by using Cognition Points and advance on your enemy without pause. Fear not, the Omnissiah favours the brave.

The Library of Immersion
A compelling story written by Black Library author, Ben Counter, specifically crafted to fit the unique personality of the Adeptus Mechanicus faction, with each character having their own personalities and agendas. Feel the tension and admire the devotion with unique visual effects and breathtaking audio.

Difficult Decisions
Make tough decisions that will forge the future from your Ark Mechanicus, The Caestus Metalican, and send you towards alternate endings for a truly unique playthrough. Be warned, however, the more you explore each tomb, the greater the rewards but also greater the threat.

Canticles of the Omnissiah
Collect in-game achievements and be rewarded with strong abilities that can be used once per mission to aid you in the heat of battle.
When Warhammer 40,000: Mechanicus arrives on Switch, it will include "the special Omnissiah Edition content which adds the atmospheric soundtrack, Deus Ex Mechanicus short story by Andy Chambers, the stunning digital artbook, as well as the hard-hitting melee weapon, the Arc Scourge." The Augment Update is also packed in, featuring IronMan mode, permadeath and various difficulty customization options.
Source: Kasedo Games PR
Leave a Reply