Warm Snow, dark fantasy action roguelike, coming to Switch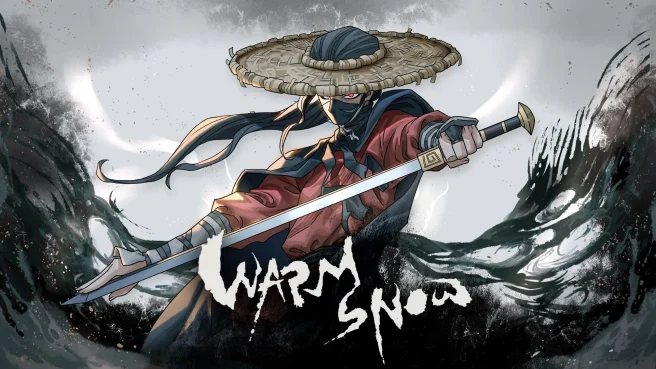 Original (9/29): Microids, BadMudStudio, and Bilibili today announced that a new Switch version of Warm Snow is coming soon. It's less than a month away with the game's launch confirmed for October 20, 2023.
The title is a dark fantasy action roguelike in which a strange warm snow refuses to melt and plunges the world into chaos and people have been turned into uncontrollable monsters. As the wandering warrior Bi, you'll need to bring down the now corrupt Clans that used to protect the land.
More information can be found in the following overview:
In the year 27 of the Longwu era, a strange "Warm Snow" plunges the world into chaos, turning people into out-of-control monsters. Play as Bi-An, a mysterious wandering warrior, and embark on an epic journey to restore balance to the world. Free the 5 houses that once protected the world from corruption and unravel the mystery behind the Warm Snow. Choose your equipment according to your fighting style and plunge into the heart of epic battles!

Key Features

A dynamic rogue-lite gameplay: adapt your arsenal of weapons, powers and elements to suit your personal fighting style.
Art direction inspired by silk paintings: immerse yourself in breathtaking aesthetic visuals inspired by silk paintings, adding a unique dimension of poetry and elegance to the game universe.
An exotic world drawn from Chinese folklore: explore a fantasy realm imbued with rich Chinese folklore, where legendary creatures and breathtaking landscapes create an authentic and immersive atmosphere.
New languages: enjoy an even more immersive gaming experience with new languages available.
Endless replay value: explore the game over and over again until you finally discover the truth about "Warm Snow" and put an end to it.
Ash of Nightmare » content included: discover the Nightmare system, new mechanics, items, skills, weapons and bosses
Take a look at a trailer for Warm Snow below.
Switch Announcement Trailer
---
Update (10/12): A new trailer has been released, which we have below.
Story Trailer
---
Update (10/16): Two more story trailers have been released, which you can find below.
Leave a Reply