Who Is Zombie receives February release date, demo out now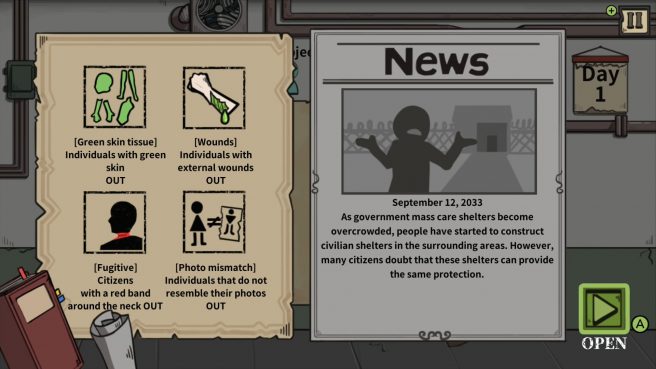 Publisher CFK and developer CINDYZ STUDIO have announced an exact release date for zombie apocalypse thriller Who Is Zombie. The title is scheduled to arrive digitally on the Switch eShop on February 24. In addition, a free demo is available now on the Switch eShop, and players may pre-order the full game starting today. Here's an overview for the game:
● STORY
In the year 2033, the nation saw a large-scale zombie outbreak.
As the government's mass care shelters quickly reached full capacity, people had to find another place to hide from the infected. So they began to seek help at nearby civilian shelters instead.

You are Aiden, the supervisor of a civilian shelter whose job is to screen out the infected from refugees.
Make your decisions quickly and precisely, save as many people as you can, and protect the shelter from any danger that may arise in the zombie apocalypse.


● GAMEPLAY
In Who Is Zombie, the player will decide whether to accept or deny refugees after carefully observing and questioning each one of them. As the supervisor Aiden, the player must save as many survivors as possible. Try your best to make correct decisions by studying various information found in government instructions and mass media.

<Guidelines add up as the outbreak persists.>

<Zombie variants require different and more careful action.>

● MULTIPLE ENDINGS
Working together as a team in the shelter, Aiden and his coworkers will face a series of events, in which the player is given choices that test their beliefs and conscience. Each choice the player makes will lead them to different circumstances, and eventually, to one of multiple endings that Aiden and the shelter could meet.
Source: CFK PR
Leave a Reply