X-Morph: Defense coming to the Switch eShop next month, Europe getting a physical version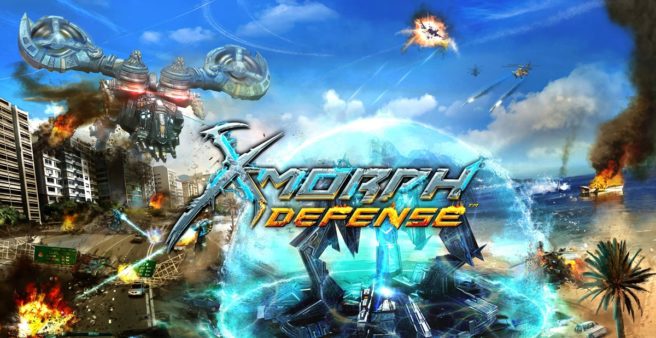 Exor Studios announced today that it will be bringing X-Morph: Defense to the Switch eShop next month. The fusion of tower defense strategy and top-down shooter arrives on February 21.
Here's an overview, along with a trailer:
Great news for all those who have the latest Nintendo console and for once would like to switch roles from being A Chosen One on a quest to save humanity, to being a highly intelligent representative of an Alien race – one with advanced technology at their disposal and a sole goal in mind: to invade and conquer the Earth. Feel what it's like to oppose humankind and take over the entire planet as an alien species, hungry for human domination. Plunder resources, build mazes for incoming enemies, tear down buildings and collapse bridges to support your defense or to simply indulge in the spectacle of unprecedented, high detailed destruction. Amass a range of unique alien weapons and use defense strategies like you've never seen before in this genre.

An unidentified object crashes into the surface of Earth, in South Africa. Rapid response units are immediately sent to the scene to investigate. This might be the first contact with an alien life form, after all. Upon arrival, all the human vehicles are obliterated by the aliens. Their base expands, covering the Earth with a strange, metallic substance. Your consciousness is transferred to the very core that has just landed on Earth. The mission – harness all the energy on the planet. Protect the core. Destroy all opposition.

X-MORPH: DEFENSE MAIN FEATURES:

– Dynamic system for destroying buildings. Every building in the game can be destroyed piece by piece, while realistic physics simulation makes every destruction scenario unique;
– 28 different enemy types, both ground and airborne;
– The Main Campaign offers close to twenty hours of adrenaline-powered gameplay, supported by three extensive DLCs;
– Epic duels with challenging bosses;
– 10-level Survival Mode campaign;
– Numerous types of weapons, towers and upgrades that affect the strategic depth of the game;
– Completely destructible environment and unique tower defense mechanics that create endless gameplay possibilities;
– All-star voice cast – including Michael McConnohie, Natalie Roers, Ryan Laughton and Tori Kamal;
– 13 language versions available.
X-Morph: Defense will cost $19.99 on the Switch eShop. The game will also be available as a boxed version in Europe where Avance Discos will handle its distribution.
Source: Exor Studios PR
Leave a Reply