Yes, Your Grace now releasing on June 26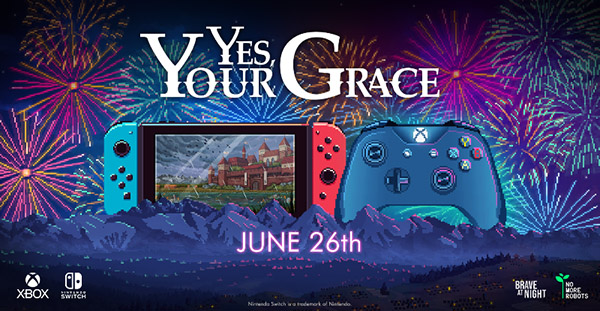 Publisher No More Robots and developer Brave at Night have announced that their kingdom management RPG, Yes, Your Grace, is arriving on Switch on June 26.
Here is an overview:

About:
Inspired by Slavic folklore, Yes, Your Grace tells the tale of a medieval kingdom, and the royal family who live there. You are King of the land, and are tasked with talking your villagers through their various problems, from monsters attacking the village, to a lack of places to relax and enjoy themselves.
Key Features:
– Listening to petitioners each turn and deciding who needs your support.
– Aiding your family with their personal problems and leading their fates.
– Hiring Generals, Witches and Hunters to aid your efforts.
– Making alliances by satisfying the whims of lords and kings.
– Following the stories of the quirky, determined characters that visit your hall.
Yes, Your Grace will be launched on Switch via the eShop June 26.
Source: No More Robots PR
Leave a Reply