Yes, Your Grace Snowfall announced for Switch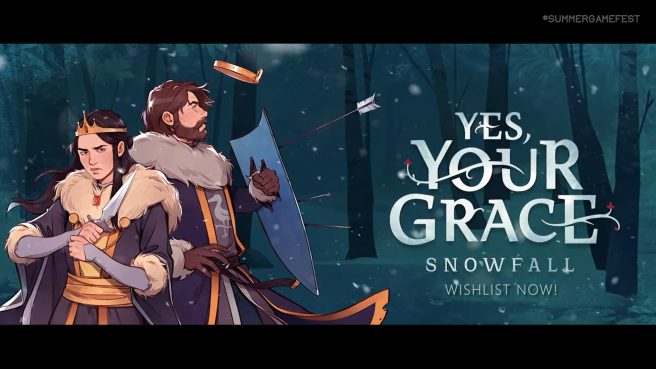 Today, Brave At Night revealed Yes, Your Grace Soundfall. A release is planned for 2024 on Switch.
Yes, Your Grace Snowfall, a cinematic kingdom management game, will have players making alliances, supporting loved ones, and rebuilding trust of their people. Additional details can be found in the following overview:
Dive into a Slavic-folklore inspired world, bursting with enchanting characters that will bring trouble, help or laughter into your throne room. Challenge your petitioners' intent and decide if you want to satisfy their pleas.

Key Features

Manage Resources: Balance your resources wisely to help those truly in need. Send your agents to aid the petitioners and decide who receives items from your treasury. Not everyone can be satisfied but how you rule will be entirely in your hands – with peasants, lords and kings alike trying to help or hinder you.
Lead Your Men: Fight in epic battles where your role will be the key to your success. The responsibility for each man's life will weigh heavy on your shoulders, but they will stand by their King, so long as you have their loyalty…
Care for Your Family: Despite the stressful royal matters, your family is where you can always turn to comfort in the most testing of times. The girls will bring smile to your face with their adorable mischief and your heart will warm with the thought of your newborns. The queen will always stand by your side and not be afraid to face challenges when needed. Care for them and together you might stand a chance against the enemy.
Make Alliances: The support of potential alliances might make a difference in succeeding as a King, but it won't be easy to entertain and fulfill every Lordship's whims. Complete their quests and decide who might be better off locked away in the dungeons.
Watch the first trailer for Yes, Your Grace Snowfall below.
Leave a Reply